A-Writer.com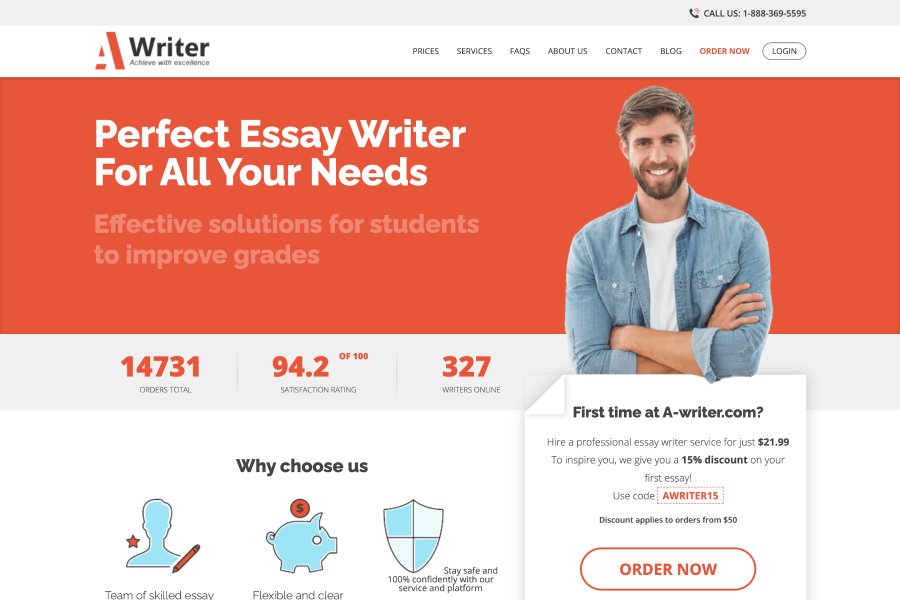 A-Writer.com is a relative newcomer to the writing service industry, and it hit our "radar" after we read a few customer reviews posted on social media and other review websites. This review is comprehensive in that it looks at several factors – the company information on its website, testimonials it has published, the range of products and services, pricing and other benefits, customer support, guarantees, and our assessment of writing quality based upon a research paper we ordered. Our summary follows.
Advertised Products and Services
A-Writer is an academic writing service only offering a full range of products and services to students at all levels of schooling. This includes all typical assignments of essays, paper, book reviews, lab reports, case studies, etc. It also includes research and writing for theses and dissertations, as well as homework help in STEM coursework. Admissions essays, editing, and proofreading round out the services.
Quality of Products and Writers
We first decided to conduct a review of A-Writer because of some negative comments from customers about the quality of the products they received. Specifically, they complained about the grammar, as well as the lack of organization. One customer stated that the same information was repeated a few times in different words, he believed, just to get to the page number requirement. Another stated that the writer did not say on point.
We reviewed the site content and found a number of grammatical errors – errors that would be typical of ESL writers. And yet the company insists that all of it writers are native English-speaking degree holders (Mater' and Ph.D.'s) from the US. and the UK. If this is the case, we wonder why one of them has not written the content. It does not inspire confidence.
The product we received, an 8-page college level research paper, reflected the same issues that customer complained about. It was not written by an ENL academic; there was not thesis statement, and lack of coherent structure was apparent.
While A-Writer.com is definitely not a fraud or scam, we would be hard-pressed to recommend it to students looking for submission-ready products.
Customer Support/Service
Throughout the entire time that we were reviewing the website, the chat feature continued to pop up with a rep ready to assist us or answer questions. So, we asked a few. We were told that a complete dissertation could be ready within 3 days. We were also assured that our paper would be written by a U.S. writer with at least a Master's degree in our topic field.
We also called the toll-free number. While it is available 24-hours a day, we were not able to get some basic questions answered by the rep we talked with. We took the questions straight from the A-Writer FAQ page.
Customer support reps are definitely available; however, they are not well-trained.
Pricing/Discounts
Prices are high for both the industry and for the quality that is produced. They begin at $21.99/page with a 14-day deadline and progress to $49.99/page with a 3-hour deadline. There is no distinction between high school and Ph.D. level work. New customers will receive a promo code for a 25% discount on their first order. Other discounts are not to be found, so we asked. We were told that we would receive coupon codes for between 5 – 15% off, based upon the number of pages of an order. Customers would not know this, however, unless they knew enough to ask.
Additional Benefits
There are no free benefits offered, although we did see that our title and bibliography pages were not added to our cost. Other benefits are feed-based, such as getting a "premium quality" writer, VIP customer service, and a plagiarism scan and editing. For the prices they charge, they should be providing these things without charge.
Final Verdict
If we look at pros & cons, A-Writer is a disappointment. Quality is not worth the price and students will not be happy with their initial drafts. We asked for revisions, got them, but were still dissatisfied. The company has no BBB membership, and that is always a concern. In all, we are giving a rating of "poor." This service has some work to do.
Is it a writing resource with a legit partnership? Just go to prices and click to switch to Arabic language. I feel like I`m on some so-called racist website with the propaganda of Islam…..
Leave a Comment
Your email address will not be published. Required fields are marked *
Customer reviews
Rating 1
based on 1 reviews
I strongly wouldn`t recommend to have any kind of partnership with them.
Whenever you expect a quality product, you expect it fast, professional and in time. How do you feel when ALL of three criteria are failed to be met? This writing resource is really like a third wheel in the educational process between you and a good mark from your college professor. Of course, if you are way too desperate and don`t mind wasting some money - welcome home. But I strongly wouldn`t recommend to have any kind of partnership with them.
Leave a Review
Your email address will not be published. Required fields are marked *