AdvancedWriters.com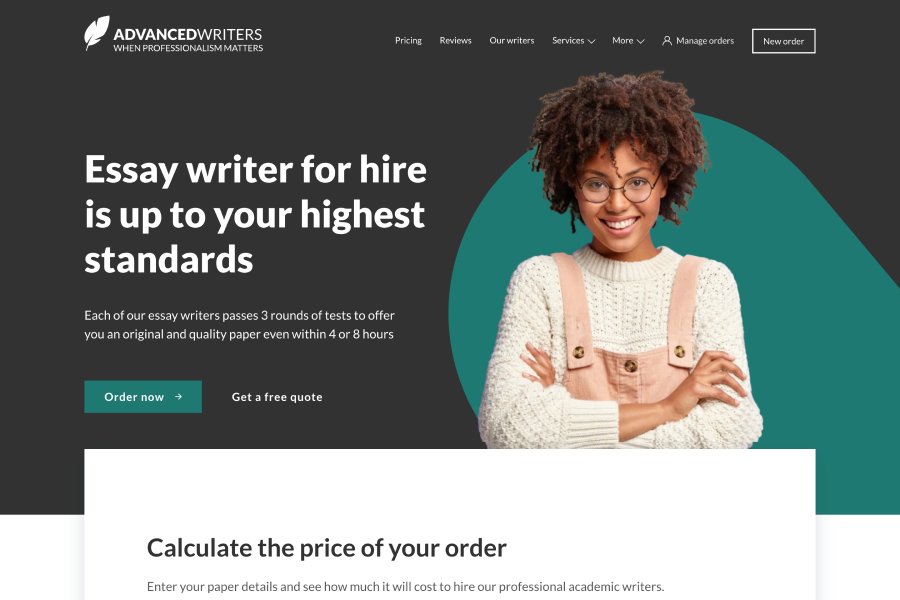 Discount:

5%

Urgency from:

6 hrs
AdvancedWriters.com has been in the professional writing service business since 2008. Since that time, there has been a lot of information on the web, namely in the form of customer reviews. They were incorporated into this review, along with many other factors – the website content and information, the policies, prices, and customer service, on-site testimonials, samples of products if available, and our experience with customer service. We also ordered a research paper in order to fully assess product quality. All of these factors contributed to the summary that follows.
Advertised Products and Services
Advanced Writers is focused on academic writing products and services, although there is an item on its dropdown menu titled "business writing." It provides help, in the form of essays, papers, reports, reviews, case studies, STEM coursework assistance, dissertations, and virtually any other type of academic writing assignments that students from high school through Ph.D. programs might encounter.
The company also offers admissions and scholarship essays, as well as editing and proofreading services.
Quality of Products/Writers
The content on the AdvancedWriters website is well-written and informative. We were initially impressed. Then we began to read the individual footer pages and the blog. Here was a different story. There were a number of grammatical and word usage errors, indicative of ESL writers. As well, the blog was highly promotional rather than educational and/or informative on matters that would be of interest to students. On the blog, the title was, "What Are the Prices Composition for the Professional Research Paper Writing Service?" Perhaps the writer meant "comparisons," but the title made no sense.
The AdvancedWriters.com customer feedback that we found on the web indicated some of the same issues – less than high-quality writing and concerns that resources used for research were well below the proper academic level.
The research paper we ordered and received had many of the same issues that other customers had related – unscholarly composition, grammatical errors, and issues with sentence structure.
Products are a reflection of the writers a company uses. While Advanced Writers claims that it employs only the best essay writers online and only after a four-hour examination of English grammar and composition and an original sample, we have cause to wonder if this is truly the case. The individual who wrote our research paper would not have passed such a rigorous test.
Still, we can say that Advanced Writers is not a fraud or scam. Customers do receive their products and receive them by their deadlines.
There is no AdvancedWriters BBB membership – always a bit of a concern for us.
Customer Support/Services
We always assess this aspect of a company by contacting this department by phone and live chat, on at least two occasions, asking very specific questions about products and services.
We had to call and chat during their operational hours, which did not include half of Saturdays or any Sundays.
Our first call was about our own order for a research paper. We were assured that, because the paper was at the upper college level, we would have a writer with at least a Master's degree in the subject field. We asked how fast an 8-page paper could be completed and was told within 8 hours. That would be pretty fast work, but if a real expert was on it, this was possible.
We chatted with another rep regarding a dissertation. Here, we were told that we could have a full dissertation within 7 days – even for the best expert on the planet, this is effectively impossible.
Pricing/Discounts
AdvancedWriter's prices are in the average range, beginning at $13/page for a high school essay with a 15-day deadline and moving up to $51/page for graduate-level work with a tight deadline. There are no newcomer discounts or any promo codes for discounts on the site. There are, however, loyalty discounts from 5 – 15%, based upon the number of cumulative pages a customer orders. There are coupon codes to enter into the order form.
Our query about a dissertation brought an initial price of $8140.00, but we then would receive a 15% discount due to the length. But we would also have to pay 10% of the original price for an ENL writer and another 10% for progressive delivery.
Additional Benefits
There are guarantees of plagiarism-free writing and free revisions, along with title and bibliography pages. All other benefits are fee-based and included as options in the order form.
Final Verdict
We looked at the pros & cons of Advanced Writers, and find more cons – specifically in the area of quality of writing and some exaggerated promises regarding the length of time to get a major piece of work finished. Further, there are definite concerns about product quality and the fact that a student would need to pay an additional 10% for a native English-speaking writer.
Overall our rating of AdvancedWriters.com is "Fair."
Horrible service with horrible writing. I have never found such in my life. No main theme illustration when it was the must of the musts?!
It`s like an apple pie with a fish on top – not a good thing. The paper was below average level when the price is above that average level. Cannot and will not recommend.
Leave a Comment
Your email address will not be published. Required fields are marked *
Customer reviews
Rating 1.3
based on 9 reviews
Don`t recommend to order any kind of paperwork here.
15% discount for me as for their new customer. Not a very good quality. I really wish that instead of providing me with a good discount they provided me with a good paper. In addition, bibliography was lost. Why? How come a writer can forget about such an important thing? Don`t recommend to order any kind of paperwork here.
DELAYED!
ONE WEEK DELAYED! Why? How? Any explanations? Of course no.
So disappointed
Almost satisfied with their customer support help. However completely not satisfied with the amount of plagiarism and a number of errors that I found in my book review. What wonders me the most, is that they do not even understand how bad they work! Are they completely blind?! Are they completely insufficient in the industry they are working in?! So disappointed that I wasted so much time for basically nothing.
Fake plagiarism report
Depressing thing to get - is their plagiarism report. They give you a fake one, you`re not getting far with it and the writing it covers.
Zero respect
Zero respect and zero care. Don`t like them.
Leave a Review
Your email address will not be published. Required fields are marked *