APStudynotes.com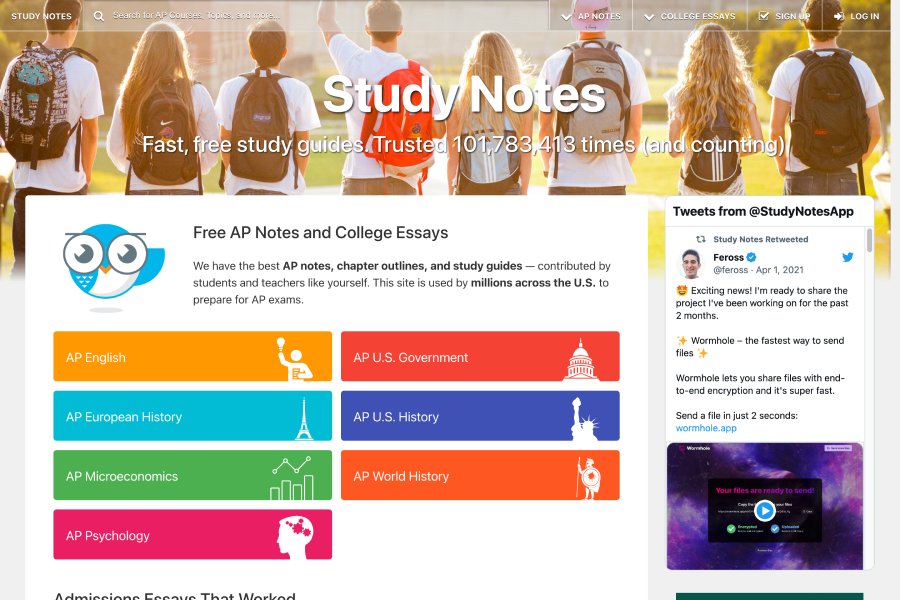 APstudynotes.org is not your normal essay writing service. In fact, it is not a writing agency at all. Still, there are needs that students have that do not always relate to homework help websites, and this company has attempted to meet some of those needs. To conduct this AP Study Notes review, we have spent a lot of time on the website, looking at the products and services it offers; we have read through comments and feedback that users of our site have submitted; we have found very few comments on the web from users because there are no apstudynotes.org customer reviews. The company does not have active customers per se. Still, we did access some of the offerings to read through the content.
Advertised Products and Services
Apstudynotes exists for high school students. It offers a curriculum for high school AP courses in virtually every subject field and class that AP students might take. The other major focus is on helping students prepare to write their college admissions essays. To do this, Apstudynotes provides a huge number of example essays, not just for the common application but for specific highly-rated colleges and universities in the U.S. – Harvard, Yale, Brown, Stanford, etc.
Quality of Products/Writers
To determine quality, we reviewed several sample AP essays for several different course areas. Some were of good quality. Others were only adequate. These are supposed to be samples that students can use as they look for essay ideas and good structure, transitions, etc. Some lacked solid introductions; others could certainly have had better transitions and conclusions. Still, for a high school student looking for essay ideas, this free pool of essays can be a resource.
The admissions essay samples are actual student-written essays that were successful in helping to get those students admitted to colleges. These are fee-based and sold in packages.
The other large offering is study guides and notes for AP classes. These provide typical units of the study found in such coursework and also help prepare students for their AP exams so that they can get college credit for their courses.
Customer Support/Service
There is no great need for customer support because students are not actually ordering original products from writers. However, there is a phone number on the site to be used if students have any questions.
Pricing/Discounts
APStudynotes.com does not charge for its study guides. However, students who wish to access sample admissions essays will need to purchase a package of them. Prices begin at $29 for a package of 147 essays.  Students who use this site and pay for essay packages should not look for discounts or coupon codes. or any type of promo code. There is simply no need for them.
Leave a Comment
Your email address will not be published. Required fields are marked *
Customer reviews
Rating 1.8
based on 5 reviews
Looks like a junkyard for texts, actually
What is this website about, exactly? I was looking for an online course but I see nothing like that here. It's not an educational blog, not a writing service... Looks like a junkyard for texts, actually
Useless
So, it's kind of a cheat sheet plus sample essays one can rewrite for a non-responsible subject. Nice try, but in my opinion a useless and even harmful one. I am sure that these texts had been there since the very beginning of the website. Can you imagine how many students have already used them for their own essays?
not well
They provide sample essays. I'm not sure the texts for money are custom written. If they had a team of writers, surely they would have sold their services.
Absolutely useless support team
Absolutely useless support team. Cannot answer a question about their own services and often ignore messages from customers.
It wasn`t good.
I cannot say that it was a completely negative experience but it wasn`t good.
Leave a Review
Your email address will not be published. Required fields are marked *