College-Paper.org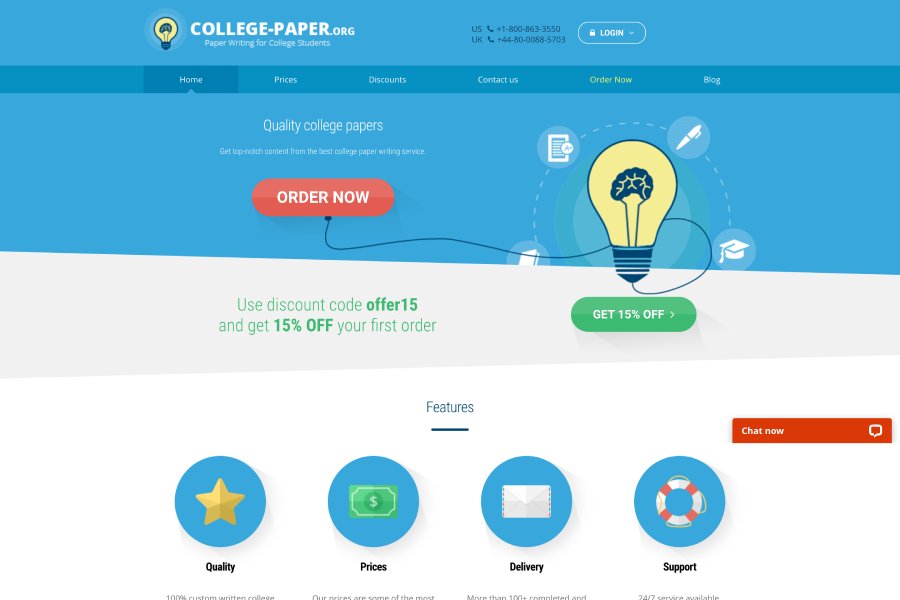 College-Paper.org is a paper writing service offering academic content writing specifically to students at colleges and universities. We were recently asked to investigate this writing service and write a review detailing our experiences. As always we begin the process by exploring the College-Paper website, conducting price comparisons, researching the company's reputation, and then placing an order. Our goal is to learn as much about College Paper as we can. This includes interacting with various members of the College-Paper.org staff and getting feedback from previous customers. The remainder of this review reflects our overall thoughts and experiences.
Advertised Products and Services
College-Paper only offers products related to academic writing. This includes essays, term papers, research papers, dissertation and thesis assistance, college admissions writing, and other products typically associated with college and university life.
We were unable to find any evidence that any services were offered to job seekers or business professionals. This is in spite of the fact that many of their competitors have chosen to diversify their services in this way.
Quality of Products/Writers
In order to provide an accurate rating of College-Paper, we placed an order for a college-level essay. The details of our order were as follows:
Four Page Essay
Subject: English
Topic: Character Analysis of Juliet From Romeo And Juliet
Deadline: 10 days
Length: 4 Pages
The first thing that we noticed was the utter lack of detail that was included in the order form. We were never asked to provide a grade level or given the option of uploading materials. Because of this, it appears as though the same paper would be written for a college freshman as it would for a graduate student.
Sadly, the final product reflected this lack of care and concern for assignment details or customer needs. When we reviewed customer testimonials on other review sites, we found that many people were underwhelmed by the products they received. Our final paper arrived on time but was not written at a college level. We found that our disappointment was mirrored in the vast majority of customer reviews that we read as well.
Customer Support/Service
We interacted with customer support both online and over the phone on multiple occasions. Here are some of the pros & cons of those interactions:
Live Service Reps Were Friendly And Personable
Our Complaints Were Not Resolved to Our Satisfaction
It Took an Inordinate Amount of Time to Receive Information
Service Was Available All Hours of The Day as Promised
Unfortunately, the bottom line is that a friendly associate who is ineffective still reflects poorly on an organization. However, we will say that we got a distinct impression that nobody was really empowered to offer us any real assistance or solutions.
Pricing/Discounts
We were able to use a promo code to receive a 25 percent discount on our order. This paper writing company also offers other discounts, as well as coupon codes. Overall, the prices here are pretty average. Unfortunately, the quality of work needs much improvement before their prices are worthwhile.
Additional Benefits
The offerings here are pretty sparse. There is a blog that contains some interesting posts, but not much else in terms of relevant content. A check with the BBB revealed that this company is not a fraud or scam.
Final Verdict
Because of significant quality and customer support issues, we cannot recommend this writing service to any student. Please check out our other paper writing service reviews to find one that will work for you.
Ha! Now I understand why they propose 25% discount to their customers. Of course, such services should be given for free! Awful place for your paper, people.
Papers from them can`t be called super or professional. There are some unacceptable mistakes (especially from writers with a PhD degree!). Timing is not something they are good with. Don`t like their resource. Can`t recommend.
Leave a Comment
Your email address will not be published. Required fields are marked *
Customer reviews
Rating 1.7
based on 9 reviews
College paper. com is a scam!!!!!
I paid for a simple research paper and I paid all the extras for editing and an expert writer. This is not what i received. When i messaged the writer to look at the original instructions they became upset. After the revision still was not done correctly i asked for my money back, which was denied due to the fact that i agreed to let the writer revised the work. I was stuck with a paper that my 6th grader could have done a better job on and i lost $200. College paper . org is a Scam!!!!!!!!!!!!!!!!
Beware of this writing service!
After using College Paper I realized it was better to pay more money for self-education than to spend them on useless websites who promise to make it all good for you. Instead, they sent me a plagiarized paper! Beware of this writing service!
Will not use it ever again.
Fast delivery of a bad quality college paper. Ha! I never expected for some professional business that deals with lots of customers and nice amount of money to be that bad in reality. No matter how good they might say they are - read feedback on their work before ordering. Not reading it was my mistake and I paid enough for that. Will not use it ever again. Good luck poor service!!
Failed!
Failed scholarship essay!!!!!!!!
I dunno what would actually make me use this place ever again.
With a discount their price looked way much better than without it. All the pluses are over. I was not able to reach the support members when I needed. No contact with the assigned writer was given (as it would distract s/he from work). I wasn`t given any samples of my pre-made paper during the time of waiting for its full completion. In general, I dunno what would actually make me use this place ever again.
Leave a Review
Your email address will not be published. Required fields are marked *