EffectivePapers.com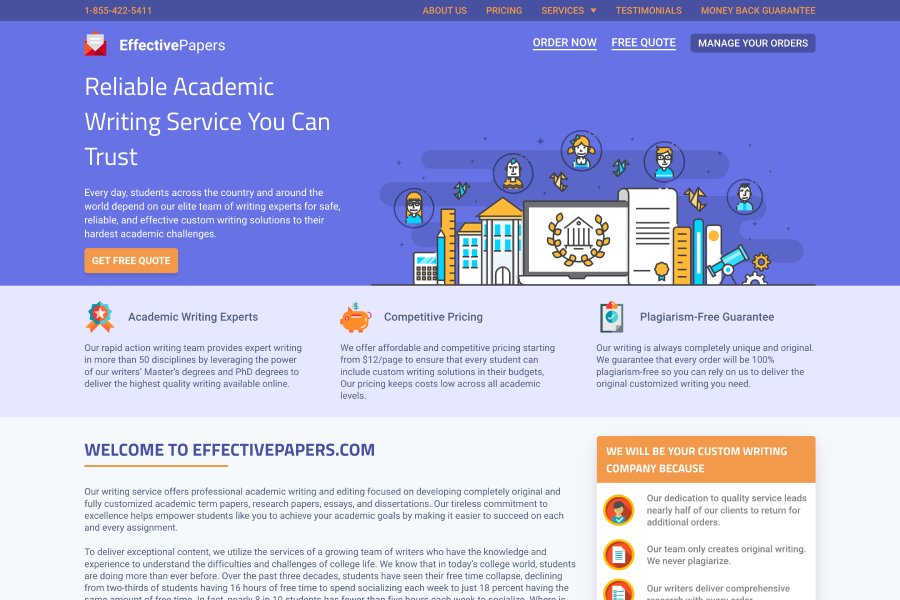 Discount:

5%

Urgency from:

6 hrs
Launched in 2008, EffectivePapers.com has a long list of services, posted right on its home page. Also on that page are the key elements of their service to customers – qualified writers, high-quality writing, good prices, and a guarantee of no plagiarism. The remainder of the site includes pages on prices, "get a quote," the order form, and a blog. We looked at all of the information on the site pages, as well as read a number of the footer pages (and there a quite a lot). We also looked at testimonials the company has published on the site, at the blog (which is actually comprised of samples from their writers), and at customer reviews that we have found in several places on the web. Finally, we ordered a research paper from the company and evaluated its quality. This is the results summary of our review.
Advertised Products and Services
It is easy to see, right on the home page, that EffectivePapers.com caters to students – students at any academic level, and that the products they offer are typical assignments that students at all of these levels face in their coursework – basic essays through dissertations. While not listed on the home page, the company also provide editing, proofreading, and admissions essays.
Quality of Products/Writers
Effective Papers speaks to the exceptional expertise and qualifications of its writers. We were interested in taking a look at what we could find, on and off the site.
We read through several of the footer pages which provide details of the offered writing products. Unfortunately, the English is horrible – incorrect word usage, sentence fragments, and missing articles in front of nouns. This "smacks" of ESL writers.
We read through two of the blog articles. These are actually example pieces from their own writers. Again, in terms of formal, scholarly writing, we are disappointed.
Customers who have written EffectivePapers reviews or made comments on the products/services they received, criticize the composition, the style, and the lack of organization.
The paper we received was sub-par. It was simplistic and poorly written, lacked coherence, and was not fully tied to a rather weak thesis statement.
While EffectivePapers.com is definitely not a fraud or scam, the quality of writing is certainly an issue. Another concern is the lack of a BBB membership.
Customer Support/Services
We did contact the customer support department on two occasions – by phone and live chat. The phones are closed on Sundays, but the chat feature seems to be on for 24 hours. Unfortunately, these contact venues are manned by non-English natives who are difficult to understand, and they may have had difficulty understanding us too. There were long pauses while they were obviously checking for answers to our questions. We wonder if the company is using an answering service as opposed to actual employees.
Prices/Discounts
Prices begin at $12/page for a high school essay/paper and graduate to $50/page for Ph.D. writing with a 24-hour deadline. Our paper – 8 pages, college level, with a 7-day deadline – was priced at $152.00. This is just a bit above average.
There are no newcomer discounts which is often the case with other services. We asked customer support about any type of promo code but were told there were none. We did find a discount policy based upon cumulative money spent, with 5 – 15% price breaks. We were not certain how to get coupon codes for these discounts, but customers will have to spend more than $500 to get the lowest discount.
Additional Benefits
Effective Papers does not post any free benefits, and there are only a few fee-based add-ons. For $15, a customer can get a few pages of writing from the writer assigned to his/her order; premium writing also has an additional fee.
Final Verdict
For a company that has been in business for 10 years, we were disappointed by a number of things. In looking at the pros & cons, we do see more cons. EffectivePapers is simply not producing the quality it should be by this point. Overall, our rating is "Fair."
Waste of $100 on proofreading and plagiarism check! Next time I`d better throw the same amount straight out of the window. Bad resource
Leave a Comment
Your email address will not be published. Required fields are marked *
Customer reviews
Rating 1
based on 5 reviews
I do not recommend using this writing resource.
The quality of my order is poor. There are a lot of points that weren`t added nevertheless I asked to include them! To my complaint and a request for a revision they said no, because the paper is well-made. But where? I do not recommend using this writing resource.
What? Are you idiots?!
They did not give me any effective help with my French paper work. I am, in fact, disappointed, that $140 went for nothing, like straight into the trash can. Free quotation was not found. When I asked why, they said I should have noted it before they had started the work. What? Are you idiots?!
As a result, I have "C"
But there are much more cons. It was expensive, of low quality and badly formatted. I needed to spend a sleepless night to turn it into a readable text. As a result, I have "C". What I liked about this website is on-time delivery.
They failed
I wish I were smarter when I was picking up a service online to finish my case study assignment. The only thing they tried to do kinda better than all the others was on time delivery. Though, they failed with it. Expensive price is one more minus you get from them.
Waste of time
For the past week I`ve been more than unpleasantly surprised by the paper that I had gotten from this resource. Cannot say that it was fully unprofessional, but the errors that happened to be there were far behind any possible explanation. As their support department did not work on Saturday I had nothing else left than to rewrite the whole essay myself. Waste of time with effectivepapers...
Leave a Review
Your email address will not be published. Required fields are marked *