EssayPedia.com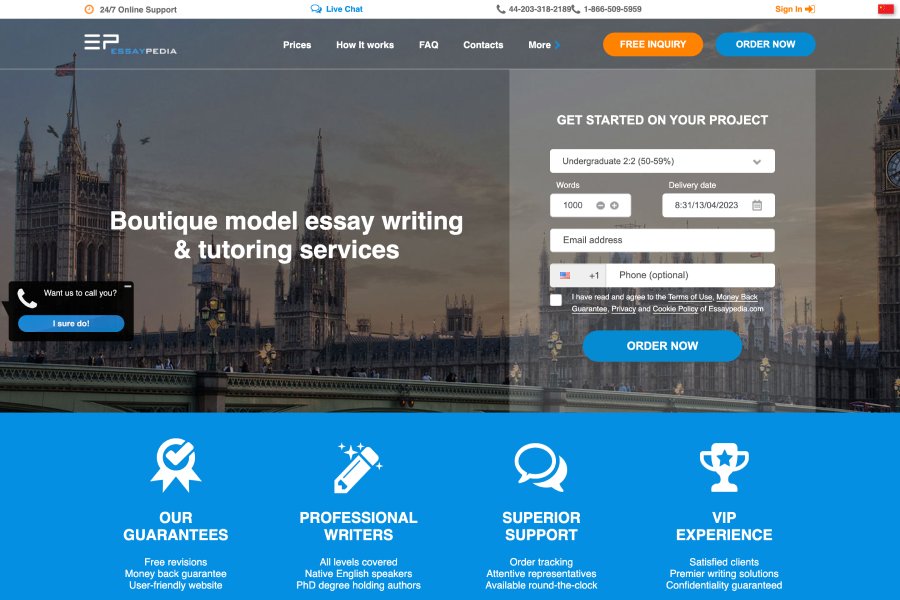 At first glance, Essaypedia.com looks like a highly professional writing service. Its website is nicely appointed with important links at the top of the home page, footer pages that comprise policies and detail about products and services, and, in general, we found it quite to navigate and study the information about the company and its offerings. And, the company has been in business for six years, which means that it has had time to refine its procedures and services. We entered this review process with optimism. We studied every page of content; we look at the testimonials page; we reviewed the samples that were provided; we compared pricing and discounts; we contacted the customer support department with questions; we read customer reviews that we found on the web; and we ordered a research paper, to assess product quality first hand. This summary is written so that others looking for reputable and professional writing services will have an objective, factual picture of Essaypedia.
Advertised Products and Services
Essaypedia is a strictly academic writing service. A such, students can order anything from essays and papers through graduate-level theses and dissertations. Additional products and services include coursework assistance, especially in STEM subjects, editing and proofreading, and admissions, scholarship, and personal statement essays for undergraduate and graduate applications.
Quality of Products/Writers
The company boasts that all of its writers possess Ph.D.'s from English-speaking colleges and universities. We are always a bit suspicious when a writing service makes this claim, especially when they serve high school students, as Essaypedia.com does. There are plenty of great academic writers with Bachelor's and Master's degrees who could serve high school and undergraduate students for less cost. We evaluated product quality by four factors:
On-site testimonials were all positive, as we expected This is standard for all writing services
Off-site reviews were another story. There are customer complaints about writing quality as well as the quality of resource materials used. In short, students at the college and graduate school levels stated that both resources and writing style were far too "elementary" and, in some cases, not acceptable.
We reviewed the four samples that are housed on the Essaypedia site. There are some serious issues. One sample, a history of the civil rights movement in the United States, began with a thesis statement that was only somewhat supported by the rest of the piece. The resources used were, in some cases, totally inappropriate. Newsmax and Truthout, for example, are online magazine publications with very poor reputations and are consider by many to be "rags."
The research paper we ordered on middle school education was a piece that we would never consider submitting for a grade at the university level. Vocabulary and style were far too simplistic, and, again, the resources were all secondary and old.
This company is certainly not a fraud or scam. In fact, it has a BBB membership with a decent rating. However, for students looking for high-quality research and writing, it may not be acceptable.
Customer Support/Service
We spoke to customer service reps by phone and live chat. In both instances, they were friendly and tried hard to be helpful. They were obviously foreign, however, and it was difficult to understand all that they said. We did specifically ask about how we could check our writer's credentials and were told that the information was confidential and could not be revealed.
Pricing/Discounts
Essaypedia prices are high. They begin at $20/page for a basic high school essay with a long lead time and go all the way up to $90/page for an admissions essay with an urgent deadline. Our 8-page paper with a 6-day deadline was $216. And given that there are no newcomer discounts, this is pricey for the industry.  We could find no promo code for special pricing or coupon codes for loyalty discounts.
We did find a "bonus" program, which is common with many writing services. When a customer orders and pays for a product, 10% of that product price will be put on account to be used toward any future orders.
Additional Benefits
Essaypedia offers free title and references pages, as well as plagiarism checks, formatting, and an editor check. However, in checking further, we found that some of these supposed "freebies" are not free. A plagiarism check/report is $10.00. Customers who want an editor to review a piece are charged extra during the order process; a table of contents page is also $10.00.
Final Verdict
After looking at pros & cons, we are frankly disappointed. For the quality of writing it delivers, Essaypedia is far too pricey. We find the claim that their writers are all Ph.D.'s very suspect, given the samples and the paper we received. We give this company an overall rating of "Fair."
It`s a strange place… I thought I was speaking with my writer but as it turned out it was a customer support member (why did they need to lie about that?).
Leave a Comment
Your email address will not be published. Required fields are marked *
Customer reviews
Rating 1.5
based on 4 reviews
Waste my time
I like the price level and that this service can meet your established deadline. It`s really important for me. The total quality of the paper is under the average level (which is not cool!!!). I had to remind them to include and rewrite some parts for a few times (which is also not cool because I had to waste my time on that instead of finishing some other business of mine). As a summary, I think I wouldn`t use this resource again. Maybe in a couple of years, if they, of course, will develop a better quality of given services.
I cannot recommend you
Somehow their toll-free doesn`t work. I wasn`t able to reach any of the support department members. That`s not a great thing to discover straight after you had placed your paperwork order and did a pre-pay. Nevertheless they gave me a plagiarism report, it didn`t show the real truth in the plagiarism percentage. Thus, I cannot fully trust this resource and cannot recommend you to trust them either.
Do not recommend.
As a result, I wasted another $150. Badly written essay, with major mistakes to be found and without a bibliography that I was asking for many times even before I paid the first half. I should confess, that I fully didn`t like the work that I had with them. It was frustrating, it wasn`t professional and it wasn`t useful. Do not recommend.
An awful grammatical mistakes
When the order was in progress of writing I had to ask for the pre-made sample on theirs. OK, the sample looked quite nice so I was assured of the outcoming result. How disappointed I was at the end when I actually got the final paper! An awful one without a summary page and with the grammatical mistakes with the same word over the whole paper. Due to that I strongly do not recommend this place!!
Leave a Review
Your email address will not be published. Required fields are marked *