Essay.ws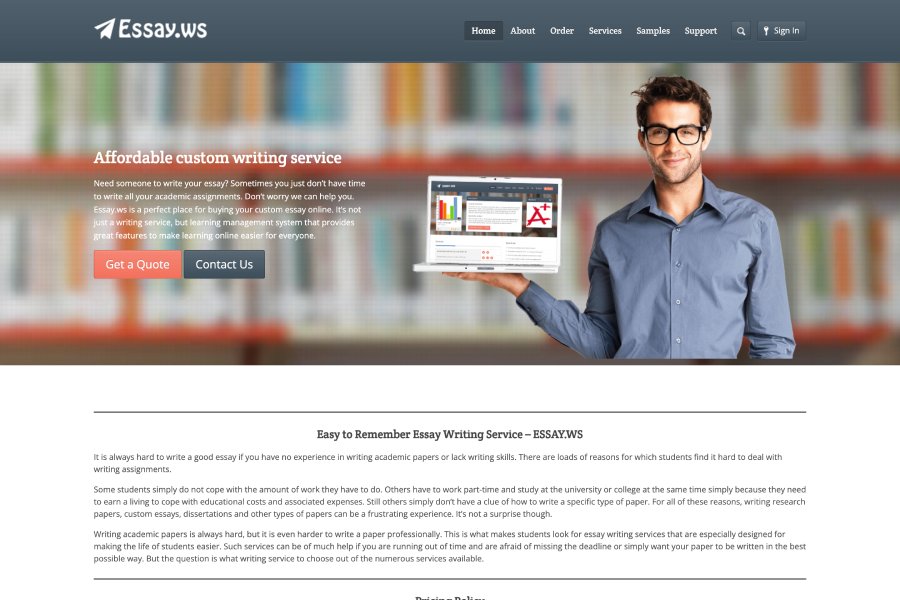 Essay.ws appears to be one of the newer writing services in the industry. We have been able to find information on the web for the past year or so, and we have only just begun to receive conversations on our site and a few requests for an Essay WS review. We were able to access the company website easily and found just a few links at the top of the homepage. But, we were able to navigate through the site pages and review the information contained there the company-published testimonials, and a large number of EssayWS sample writings. We also checked for policies and reviewed the footer pages, which are numerous indeed. Finally, we sought and found some Essay.ws customer reviews on the web and ordered a college-level research paper ourselves. We have learned the following.
Advertised Products and Services
Essay WS offers academic products and services of all types, as well as business writing. Students from high school through Ph.D. programs can order original writing, editing or proofreading services. Business owners can order anything from plans, to reports, to copywriting services for their web presence. In this respect, the company is a full-service agency.
Quality of Products/Writers
We reviewed the content on the EssayWS site – the information it published, its samples, and its footer pages they were all disappointing, to say the least. Grammar and composition was obviously written by foreigners, although the company stats it only employs native English-speaking writers with at least Master's degrees.
Customer reviews were also negative in terms of quality of both writing and resources. The one positive comment was that products were received on time.
The paper we received reflected the same poor quality of writing. Structure was poor and lacked a coherent flow. And the grammar and word usage errors bordered on ridiculous. There was no way such a paper could be submitted in a college classroom.
Essay.ws is not a fraud or scam in a technical sense. However, given the poor quality and the exaggerations about their writing staff, we certainly would not recommend them. And added to that, we could not find any BBB membership.
Customer Support/Service
There are two ways to contact customer support agents – via live chat and email messaging. There is no phone number and no address provided by this company, something that always raises suspicion with us. Nevertheless, we did contact them by both methods. Our email was not answered, but we were able to chat with agents on two occasions.
Our experiences were not great. We were unable to understand one of the agents, because of her foreign accent; the second agent was able to give us very limited information and answers to our questions. Furthermore, he told us that they had writers who could produce a full dissertation within a week. Impossible.
Pricing/Discounts
Essay.ws prices fall within the low average-to-average range, beginning at $10.99/page for high school students with a 14-day deadline and graduating to $47.99/page for doctoral students with tight deadlines. The paper we ordered, 8 pages with a 7-day deadline cost $135.92. The company stated it did offer discounts but we could find no promo code for this. When we asked customer support, we were told that coupon codes for discounts are available upon request.
Additional Benefits
The company offers the standard free pages and a plagiarism check. It lists formatting and free email delivery as benefits too.
Final Verdict
We always assess pros & cons of the companies we review. In this case, we can find no pros, other than pricing. The quality of writing is poor, the company exaggerates the qualifications of its writers, and it is pretty apparent that the site is not in an English-speaking country. Overall, our review has resulted in a rating of "poor."
Leave a Comment
Your email address will not be published. Required fields are marked *
Customer reviews
Rating 1
based on 4 reviews
I don`t recommend
Even their website has errors, I`m entirely speechless about the number of errors in the paper I had ordered. I`m frustrated, disappointed, and angry! I don`t recommend their writings, and I will keep on until I get the refund.
My order was just forgotten!
24/7 unavailable support. Worthless to try to reach them even during the daytime. My order was just forgotten! The due time came but nothing was given to me. No comments from their side. No explanations. No order...
I`d recommend looking for some other places
I`d recommend looking for some other places for custom writing. Even though the price was $13 per page, even half of that price didn`t worth the final sample of my case study. What a careless company. What an awful place.
Poorly written piece with major grammar mistakes.
I cannot say that this service met my expectations. I sent them all the necessary materials I had. We cleared all the misunderstandings and discusses every issue possible. In the end, not even close to what I expected. Poorly written piece with major grammar mistakes.
Leave a Review
Your email address will not be published. Required fields are marked *