EssayWriter.org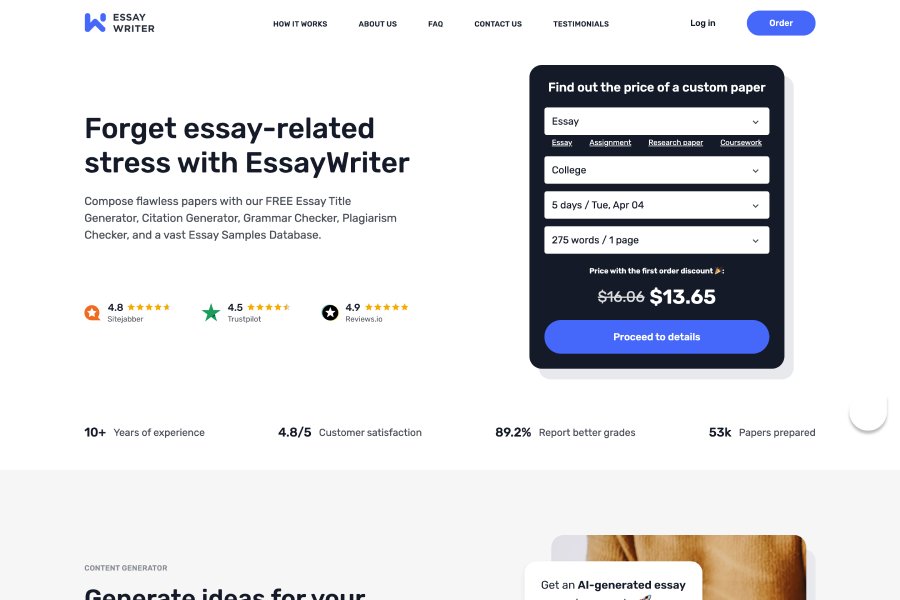 EssayWriter.org has an essay writing service model that includes a bidding process when customers place their orders. It appears to have been in business for at least seven years, as we have been able to find customer reviews on the web dating back to 2014 and writers who have registered with the service as early as 2012. They have become part of this review, along with the information provided by the site itself, testimonials posted on the site, comments and feedback we found on the web, customer support, pricing, benefits, and any other unique features. Having gathered all this info for all the companies here we were able to populate a list of the best essay writing services, which you should definitely check out. The review that follows is a summary of our findings for this website.
Advertised Products and Services
The EssayWriter.org focus is entirely academic. The landing page explains the process by which students place orders and receive writers:
A student provides all of his order details on a provided form. That order is then placed on a "job board" for registered writers to see and bid on.
Students receive bids, have the chance to interview the bidders, and then select the one they want.
The company sets up an account for each student so that he can communicate with his writer and provide the final approval of the finished piece of writing. The company holds payment on the account until the customer gives approval, takes its cut, and pays the writer.
In terms of products and services, Essaywriter.org boasts that it has 90,000 registered writers and can produce academic writing at any study level, of any type, and on any topic. Further, it states that its writers produce more than 200 pieces a day.
There are two links related to products – "writing services" and "editing services" The links are broken, but if you go in with a URL for the company name and then the link name, you will reach a page for each of these links. Those pages, however, are blank except for a statement that Essay Writer is the best academic writing platform that has the best writers working for it. No products or services are listed. We have to assume that students can order any type of writing and get bids.
Quality of Products/Writers
Quality can only be judged by what customers say about their received products and the samples that we reviewed on the website. Here is a brief summary:
Customers all state that EssayWriter is reliable and can be trusted to deliver products as ordered and on time.
Feedback about the quality of delivered products is a bit mixed. While most seem to be adequately satisfied, others stated they needed to request revisions, and a few were not satisfied.
There are samples on the website, and we read three a few of them. Again, their writing was adequate, although there were some grammatical and word usage errors that are common with non-native English writers.  The word "within," for example, was spelled as two words (with in) in several places in one paper. In another research paper, there were no in-text citations, only a bibliography at the end.
In terms of writer quality, there is very little information about the page containing "top writers." There are pictures and short profiles that contain only the number of products they have completed and an average rating of their customers. There is also a listing of topic areas each writer focuses on and a short testimonial from one customer.
It is up to students to "interview" possible writers, and during this process, ask about their academic backgrounds and writing backgrounds. This is done via messaging. We urge students to develop a list of questions to get as much information as possible before selecting a writer and making payment.
Writers are able to register with the company by submitting a resume/CV that shows a college degree. They may then begin to place bids on orders. The quality control comes from the customers themselves – they provide feedback and score their writers. It is assumed that writers who consistently get poor ratings are dropped from the system. We don't know for sure.
We would also urge students to review the Essay Writer policies. These are contained in links at the bottom of the landing page and relate to revisions, refunds, privacy, and the terms and conditions for use of the site.
Customer Support/Service
There is a toll-free number to reach the EssayWriter customer support department. We called a couple of times, and, it appears that the department is open 24/7 as stated. We asked some general questions about the process and received appropriate answers. The agents did not discuss writers or specific products. We were told to complete an order form and wait for bids. At that time, we could discuss everything with our chosen writer.
Prices/Discounts
Prices are obviously not fixed. But according to the site, they will, of course, vary according to the type of product, the student's academic level, the amount of research involved, the length, and the deadline requirement. It seems that the average price for a basic essay begins at about $10 a page with a reasonable deadline.
Obviously, there are no Essaywriter.org discounts. Pricing is set by writers' bids, although there may be some negotiating at times.
Payments are made directly to the company, once a bid has been accepted. All major credit cards are accepted, and a third-party secure payment processor is used for all transactions. Customers can feel safe providing their financial information.
Additional Benefits
Given that the company is not in charge of bids and pricing, there are no benefits offered, other than the guarantee of plagiarism-free writing, confidentiality, and the right to request revisions and refunds, according to their policies. Writers are under a legal obligation to destroy any copies of pieces they write once a customer has approved and taken delivery of his product.
Final Verdict
Our first recommendation is to the Essay Writer company itself. Links need to be fixed, and writing and editing services need to be specifically listed for visitors to see. Our second reflection on the company is that the onus is really on the student to do the investigatory work, to choose the best writer for his need. We would also recommend that students not use price as the only factor in selection. Getting a quality writer and paying a bit more is a better path. Overall, we are giving EssayWriter a rating of 4, on a 5-point scale.
Average service with weak writing abilities. In case you have some money to waste and do not care about the quality – use EssayWriter resource.
Leave a Comment
Your email address will not be published. Required fields are marked *
Customer reviews
Rating 1.2
based on 11 reviews
I would highly advice applying for some other places.
They don`t care how much you pay when delivering your papers. Even though I ordered premium level, it didn`t help at all. I won`t recommend it to anyone. and would highly advice applying for some other places.
Paperwork was disgusting
To the main part, it was impossible to drain the refund from them. I guess they quite understood that their paperwork was disgusting, and the writer apologized to me. But the bosses don`t care about anything but money. =/
Average site
Simplified paper and pretty nice book review. I`m satisfied with the results of my paperwork. Although, I was hoping to get some more quotations from the book we were writing about. Instead, I had to add them myself. It wasn`t a big issue for me, but I was a bit sadden, that they didn`t do it at the very first time.
You are not going to get anything adequate
The problem is common for the websites that work using a bidding system. You are not going to get anything adequate for the minimal price which is often not lower than the average one in the market. You are more likely to find an awesome writer through bids though. Personally I haven't been lucky yet, only payed a mountain for nothing.
I still didn't get what I needed.
I've tried luck several times here as well on other website working in a similar way but nothing good came out of it. Most often, having chatted for a minute with a writer I realized they didn't speak English as their first language. A couple of times I even made an order but each time it needed multiple revisions and I still didn't get what I needed.
Leave a Review
Your email address will not be published. Required fields are marked *