MarvelousEssays.com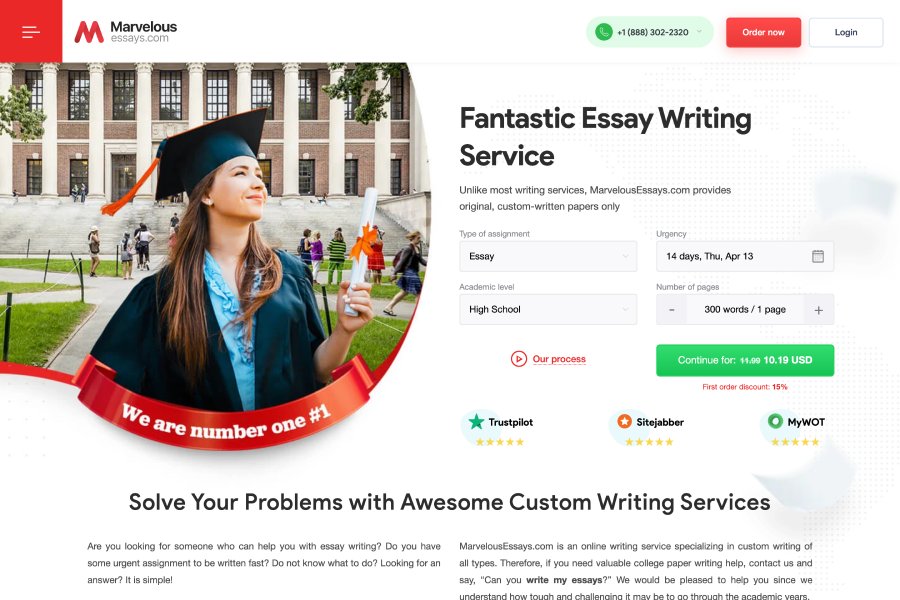 MarvelousEssays.com is an online writing service that has grabbed the attention to many of our followers. Because we have received requests to check out Marvelous Essays, we have decided it is time to check them out and write a review.
Before we get started, let's go over the steps we take to ensure that we have all of the information we need to create a fair and helpful write up. We begin by simply exploring the MarvelousEssays.com website. Then, we head over to Google to search on MarvelousEssays. We read all of the customer reviews of Marvelous Essays that we can find. Finally, we check out BBB records. In this case, MarvelousEssays is not a fraud or scam.
The last step that we take is to place an order for a paper. When we receive the product we have ordered, we review it thoroughly. We look for writing quality, formatting, editing, and adherence to our instructions. On time delivery is also very important. We also use this process to evaluate both writer and customer service quality.
Advertised Products And Services
They claim to do writing of all types. However, when we went to place an order, we noticed two things. First, they only appear to offer academic writing services. In addition to this, their service offerings are quite limited. They do offer essays, term papers, and research papers. They also help students with various thesis and dissertation needs. For example, we didn't notice any reference to lab reports, articles, or critiques. We also were a bit stunned that no admissions or scholarship writing  help was available. Students who want more than the normal bare bones writing may be disappointed.
Quality of Products/Writers
We were a bit apprehensive going in. The testimonials we read on other websites were overwhelmingly negative. Unfortunately, we wound up being just as disappointed as the others. Most people gave a very low rating of writing quality. Now we understand why. We ordered a college level essay. This should have been a simple assignment. Instead, the writer got it all wrong. The grammar and mechanics were terrible. We believe our writer was not a negative English speaker.
The only positive that we can mention is that our writer was very courteous. They also asked plenty of relevant questions. However, it is clear that they couldn't adequately apply what we told them.
Customer Support/Service
We suspect that this company uses some sort of answering service. Calls are picked up promptly, but in many cases we were told to call back. This was often because nobody was available who had the authority or knowledge to answer our questions. We wish companies who claimed to have 24/7 support would actually staff people who know what they are doing.
Pricing/Discounts
We paid 15.99 per page for a basic, college level essay. When compared with other companies, these prices are about average. Unfortunately, considering the lack of quality, this was not a worthwhile expenditure.
Even the promo code for a 15% discount did not help. In addition to this, other discounts are available through coupon codes.
Additional Benefits
Because the website was difficult to navigate, we had a hard time finding any extra content. There is a blog, but it isn't very well written. There are some policy pages, and a few pages explaining how the website works.
Final Verdict
The pros & cons  have been weighed. Due to quality issues, we must advise students not to use this service.
The only pros about this service is their website design. Everything else is just worthless and poor.
I`m so sad because of this writing resource. I almost got expelled because of their paper! It was a scam, full of plagiarism! Of course I didn`t checked it myself because paying SUCH amount of money supposes that the final thing will worth it. SCAM AD FRAUD!
Leave a Comment
Your email address will not be published. Required fields are marked *
Customer reviews
Rating 1
based on 3 reviews
Irresponsible writers
Affordable prices and almost-able-to-meet-the-deadline issue. Awful quality, unreliable and irresponsible writers who write dire papers. Moreover, any complain of yours will be turned against you and as a result the customer will be shown as as a guilty one in the story.
Don`t like and don`t recommend.
Don`t like and don`t recommend. Poor quality is the best you can get from MarvelousEssays. The worst - they will get you waiting and waiting with no actual result and an apology for missing your order or postponing it or having a problem with the writer you occurred to move to Bangladesh in a seek of better salary.
I still haven`t got my order from them.
I still haven`t got my order from them. What a huge mistake it was to pay them in advance! Who would have known that this is a complete fraud?! One more minus is that they totally ignore me! I cannot find out what is going on and where my paper is! The due date was yesterday, I need to hand in the paper on Monday.
Leave a Review
Your email address will not be published. Required fields are marked *