MasterPapers.com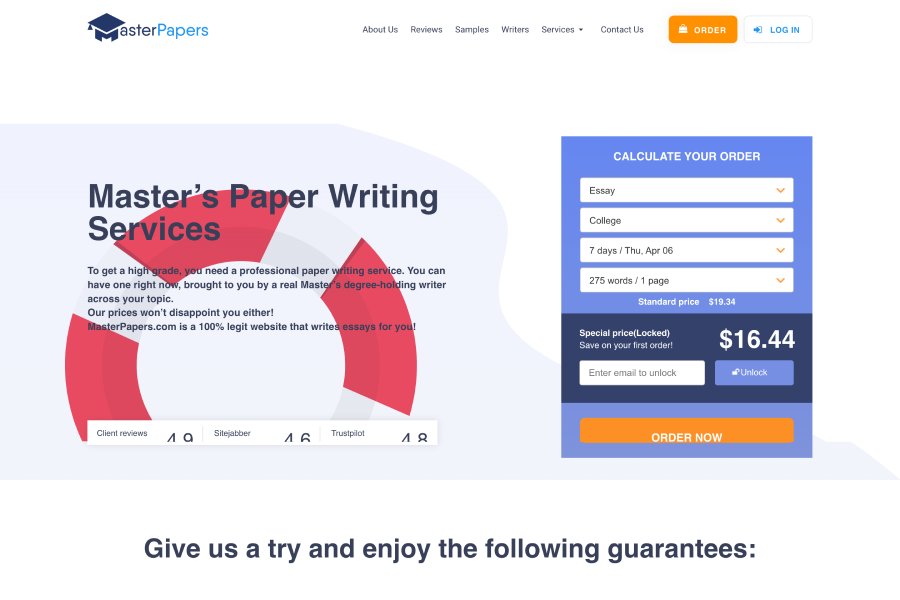 MasterPapers.com has been around since 2004. At that time, the website states, it has served more than 150,000 students with original academic ghostwriting. To provide this review, we looked at the common factors that go into all of our reviews – information provided on the company website, posted customer reviews, pricing, benefits, writing quality, off-site reviews on the web, and conversations with customer service agents. Here is what we have found
Advertised Products and Services
Master Papers focuses on academic writing for students from high school through the Ph.D. levels. Products include virtually anything from a basic 5-paragraph essay of any type, to research essays and papers, book and movie reviews, case studies, lab reports, presentations, and, at the graduate level, theses and dissertations. Additional products include annotated bibliographies, and admissions and scholarship essays for both undergraduate and graduate school applicants.
In terms of services, the standard ones are offered – review, editing, and proofreading.
Quality of Products/Writers
Here is the core of a writing service's worth – the quality of products produced by its writers. High-quality writers equal high-quality products. We spent a lot of time on the Master Papers website, looking at sample products from their writers, reading several of their blog articles, and then looking into what customers had to say about their delivered products.
In terms of writers, the company states that there is a 4-part application process for someone to become a writer for the company. This process includes submission of all academic credentials, an online interview, a writing sample, and an English grammar/composition exam. According to them, only 8% of the applicants make it through the finish line and are accepted as writers. To date they have 600+ writers.
As to the quality of products, the verdict is mixed. While some customers seem to be pleased with their products, others are not. The biggest complaint that we read from off-site reviews lies in the area of grammar and composition, outdated or low-level resources, and some redundancy in order to get the page length.
To judge the quality for ourselves, we reviewed several sample papers that are published on the Master Papers website. Again, a mixed bag. For example, in sample paper on the role of human resources for 21st century organizations, just the opening sentence was as follows:
"Artist and poet create their works in response to the time in which they live, wars emerge out of economic and political pressure."
Obviously, there are a number of grammatical and structural errors, and the rest of the paper was not much better. A couple of other samples were better, but for a company that says its writers must pass a rigorous exam, we wonder what kind of exam that is. The samples reflect the use of ESL writers who do not have total command of the English language.
Blog articles were in the same mix. While some were on point and relatively well written, others were totally promotional and written badly. One blog, on topics for and essay on the novel
Animal Farm, for example, did not address the novel at all, but, rather, the woes of students who had too many academic writing assignments and how the company could solve that problem.
Overall, while we believe Master Papers is a legitimate company, the quality will totally depend on the assigned writer. So, getting a consistently reliable quality is an issue.
Customer Support/Service
We contacted the customer service department by live chat and phone, asking detailed questions about products and policies. There are policies regarding terms of use, refunds, and revisions, and links to these can be found at the footers of each page. They are standard.
We asked specifically about Ph.D. dissertations and were assured that we could get a 200-page dissertation, complete with original research, in 7 days. This would certainly be a stretch for anyone, no matter how skilled in research and writing they were.
Nevertheless, the agents were friendly, although it was difficult to understand the one we talked with by phone – a thick foreign accent.
Pricing/Discounts
Smart Papers pricing is within the average range. It is based upon the academic level and the deadline time frame. A high school essay, with a 10-day deadline will run $16.66/page; a Ph.D. level work with the same deadline runs $27.70/page.
A 15% discount is provided to all new customers on their first orders.
Payment methods are fully secured via a third-party payment processor, so customers can feel safe when providing their financial information.
Additional Benefits
Again, the freebies are pretty standard. Customers get a free title and bibliography pages, order tracking and communication with their writers, revisions, and a quality check before the product is delivered. Beyond that, there is nothing unusual or unique about benefits.
Final Verdict
We have mixed feelings about SmartPapers.com. And our overall rating is not wonderful, because there seems to be a wide discrepancy among the quality of the products the company produces. It is definitely a legal company, so no fears there. But, while some products are certainly appropriate and acceptable, others are very poor. It all seems to be based upon who a customer gets for a writer. Based on this lack of consistency, we have to give the service a rating of 3, on a scale of 1-5. Any student who chooses to use this service will be taking a bit of a risk, because the quality cannot be trusted.
Leave a Comment
Your email address will not be published. Required fields are marked *
Customer reviews
Rating 0
based on 0 reviews
Leave a Review
Your email address will not be published. Required fields are marked *