MeldaResearch.com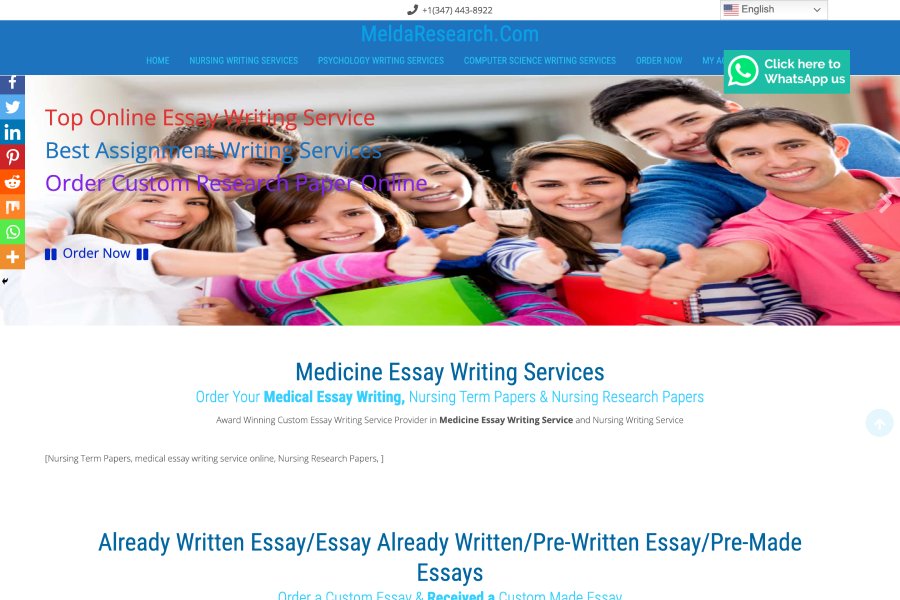 It is difficult to fully read the text on the MeldaResearch.com website, primarily because there is a foreign language inserted at many points. The other striking feature of the site content is that it is almost painfully repetitive on all of its pages. Still, we have conducted our Melda Research review in the same way as all others – evaluating the site content, looking at customer testimonials, checking prices and benefits, assessing the quality of products/services, seeking customer reviews on the web, and ordering a research paper ourselves, to gauge level of quality first-hand.
Advertised Products and Services
The MeldaResearch home page promises high-quality original products to students at all levels. While it does not provide a detailed listing on that page, there is a drop-down menu in the ordering process to select from a long list of products. These include all of the typical products – essays, papers, presentations, reviews, lab reports, case studies, STEM coursework help, presentations, admissions documents, editing, and "rectifying" (re-writing).
The company also states that it provides full thesis and dissertation research and writing.
Quality of Products/Writers
To evaluate writing quality, we first looked at the site content. We found numerous grammatical and compositional errors, along with the insertion of foreign language. Despite what it claims, MeldaResearch.com is a site that uses ESL writers.
While Melda Research states that it has been in business for either 8 years or 16 years, depending upon which page a visitor reads, we could not find customer comments and reviews earlier than just a few years ago. Unfortunately, they are all negative – including complaints about terrible quality, bad resources, and lack of writer responsiveness.
The research paper we received could only be described as inferior, in research, in structure, and in grammar and composition.
There is neither a blog nor sample writings on the site, so we could not review those. We did however, receive the piece on time.
Certainly, there are serious concerns about quality; however, we can say that the company is not a fraud or scam. We can say, however, that it does exaggerate its claims.
There is no BBB membership for the company.
Customer Support/Service
As is our practice, we contacted the customer support department twice. When we called the provided number, we got a recording that the "wireless customer" we were calling was not available. We then accessed the live chat feature and were told to wait for a customer service rep. We waited and finally moved on to other things. Eventually, we did speak with a rep through the chat feature. He told us to just fill out the order form, make payment, and we could then talk with our writer about our need he also told us that the company could produce an original Ph.D. dissertation in five days, an impossible feat even for the most learned scholar.
We also asked about the addresses of the company – the rep could not give us those addresses although they were published on the site.
Pricing/Discounts
MeldaResearch prices are average – an 8-page college level paper runs $135.60, with a reasonable deadline of 7 days. At the time of our review, new customers were being offered 35% discounts through a promo code on the site. There does not appear to be any loyalty discounts or special pricing, nor any coupon codes for such.
Additional Benefits
The company does offer free pages that are typical of most writing services. Other freebies include revision, formatting, and 24/7 customer support. There is also a fee-based ($10.00) VIP service which can be purchased at checkout.
Final Verdict
We usually point out the pros & cons of writing services we review. In this case, we could really find no pros. Certainly, we would advise students to pass this one by. Our rating  is "Poor."
Leave a Comment
Your email address will not be published. Required fields are marked *
Customer reviews
Rating 1
based on 5 reviews
DO NOT RECOMMEND THIS PLACE
DO NOT RECOMMEND THIS PLACE FOR ANY KIND OF WRITING ASSIGNMENTS! My order of a research paper didn`t work out. It didn`t even have the slightest look of a professionally combined one. Although they included all the terms, it still didn`t have a needed look to be accepted during the junior year in college. I`m strongly displeased by the outcome.
weak performances
The meldaresearch service is weak when it comes to providing essay services or any kind of essay help. Starting with their low price you finish with their low quality. I found it also strange, that a well-known resource hasn`t provided any work with its site, for that still says it`s 2014 nowadays. Oh well, that could have explained the weak performances they do.
I`d say it`s better to find another resource.
Although I have found some positive feedback about this resource, it did not work out for me. First, the writer mixed the topic. There are two similar writers, no wonder the assigned writer was "too smart" to pick the wrong one. That resulted in the deadline postponing and in the end affected my reputation and my grade. Basing on these I`d say it`s better to find another resource.
I will never use this service again.
They kinda forgot to include the summary page with the main problem illustration. How come?! What is even more frustrating, is that they don`t even agree that it was their mistake, not mine (because I had pointed out and reminded them of the summary page for a couple of times!). The high price without any coupon made the decision even easier - I will never use this service again.
I would never order here. Sorry.
This website is very hard to read and navigate. That's basically just a wall of text, no interactive elements, no attention grabbing banners.. The design of 2000's was at least flashy:) I could hardly find the order button. No way I'm ordering here.
Leave a Review
Your email address will not be published. Required fields are marked *