PaperTyper.net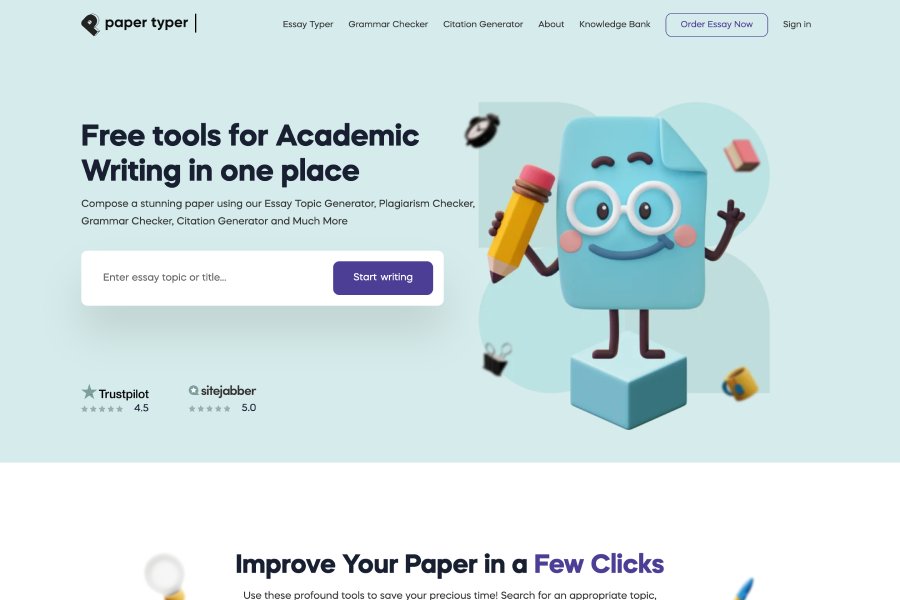 Paper Typer offers free tools for academic writing available from a single dashboard as well as providing writing services. But while the PaperTyper.net website is used by many students, there are some questions regarding the service's quality.
Read on to see the full review of this essay writing service and find out whether it is worth using its tools and ordering papers from it.
Free Writing Tools
PaperTyper is not just a regular essay writing service, but a website that offers a range of tools with background writing assistance. And while its custom writing services will likely be quite useful to many students, its free tools add little to no value overall.
The reason for this is that the tools are quite limited. The generator tool returns just a copy of Wikipedia while other tools are so weak that they don't make up for the "copy and paste" function of the main tool.
Students who decide to try the generator tool will likely be quite disappointed by it which is already a reason not to try Paper Typer's other tools and services. You will likely have more success browsing Wikipedia and reading about different topics yourself.
Other tools provided on the website include the Essay Topic Generator, Plagiarism Checker, Grammar Checker, and Citation Generator. The Plagiarism Checker and Grammar Checker don't always detect what they are supposed to (plagiarism and linguistic mistakes respectively), so you will likely have to proofread your text once more yourself.
The Essay Topic Generator can be valuable for brainstorming ideas for your paper, but you will still find that there are many relevant topics that the tool doesn't suggest. Likewise, the Citation Generator is great for getting a quick bibliography, but you will need to edit it to make sure that everything is cited correctly.
Overall, these tools are not the best, but they can still be useful to some students. Yet, you have to be ready to put in the extra work yourself and perform the additional round of proofreading, editing, and writing after using the tools.
PaperTyper.net Writing Service Review
If you read different PaperTyper.net reviews, you will notice that many of them are positive, but there are also many students who didn't like the quality of writing they received. These concerns are particularly important when it comes to reviewing PaperTyper.net's custom writing services.
The main issue with the service is that it doesn't have a strong enough team of writers and editors who would ensure the high quality of all the papers that the essay writing service handles. It goes without saying that providing the best essay writing services requires a lot of effort and a well-organized team. Unfortunately, it doesn't seem like Paper Typer was able to do this.
The ordering happens in a four-step process. You fill out the basic information about your order on the ordering page, then you provide the details about your paper (e.g. extra materials or guidelines), next you set up your account, and finally, your order is received by the website. You will then have the opportunity to further discuss your paper with your writer.
The three main types of services offered by PaperTyper are Essay Writing, Editing & Proofreading, and Calculations. Here's what each one includes:
Academic Writing – You can choose between different levels of essay writing, including High School, Undergraduate, Bachelor, Master, and PhD. You also have a very wide range of types of papers to choose from. You might want an argumentative essay or an article or a case study or a presentation or something completely different. In fact, there are even some options for non-academic writing, including reflective reports, business plans, speeches, resumes, and more. You will then have to select the number of pages or words, the type of spacing, and the deadline. Before you proceed, you will see the total cost of your order.
Editing & Proofreading – The Editing & Proofreading services have pretty much the same options as the essay writing services. You can choose between an equally wide range of paper types, the academic level, the number of pages or words, the type of spacing, and the deadline. Likewise, you will get the total cost of your order before you proceed to the next step.
Calculations – What's particularly interesting is the third type of service offered by Paper Typer which is Calculations. Here, you can also choose between different academic levels, but instead of choosing your type of paper, you will need to choose your subject area. These range from accounting to chemistry to engineering to geology to pharmacology among many others. If you don't see your subject area, contact customer support and ask whether they offer Calculations in your specialization. You will then need to choose the number of your problems where one problem is the equivalent of one question in your assignment. Finally, you will need to select your deadline and check the total cost before proceeding.
The ordering process is quite straightforward and the user interface of PaperTyper.net makes it easy to figure out what to do next. But you need to keep in mind the quality of the services and the free tools offered on the website. If you are ready to try these, then definitely proceed (but still remember to be careful).
It's also worth mentioning that the pricing-quality balance is customer-friendly. As discussed further, you will receive precisely what you pay for, so you can be certain that you won't have to pay for overpriced services that will ultimately be of poor quality.
Pricing
Paper Typer's tools are free, but its custom writing service is not. If you want to order your first academic paper from them, you will get a 10% discount. The prices are relatively low which makes the agency quite attractive to students with tight budgets.
That being said, you need to expect the kind of quality that you pay for. To put it simply, while the prices are low, the quality of the service is relatively low too. It is still acceptable though, especially for those prices.
Quality
While the quality of the service and its tools are definitely not the best, they are quite in line with the pricing. In other words, if you don't have a big budget and are looking for something truly affordable, then Paper Typer is definitely an option.
However, you should be ready to perform additional editing and writing yourself after using its free tools. When it comes to the service, you likely won't have to edit much, but you may still need to adjust your paper to your needs after it's written by PaperTyper's writers.
Leave a Comment
Your email address will not be published. Required fields are marked *
Customer reviews
Rating 1.8
based on 20 reviews
bad papers
I liked this site at first because of how well it's designed and how well its operators communicate. But it all then broke down because of how bad and watery my final essay turned out...
Pretty bad site
Pretty bad site here. I didn't even manage to find the writing service here. And it was pretty bad either...
Never liked services like these
They all look like scam. This one is just another confirmation of that. Taking money for nothing...
Not cool at all!
This is so irresponsible to promise to deliver the paper on a certain time and then just fail that deadline pretending as if nothing happened...
Not a good service
Not a good service because it's not good to take someone's money and give nothing in return...
Leave a Review
Your email address will not be published. Required fields are marked *