PayMeToDoYourHomework.com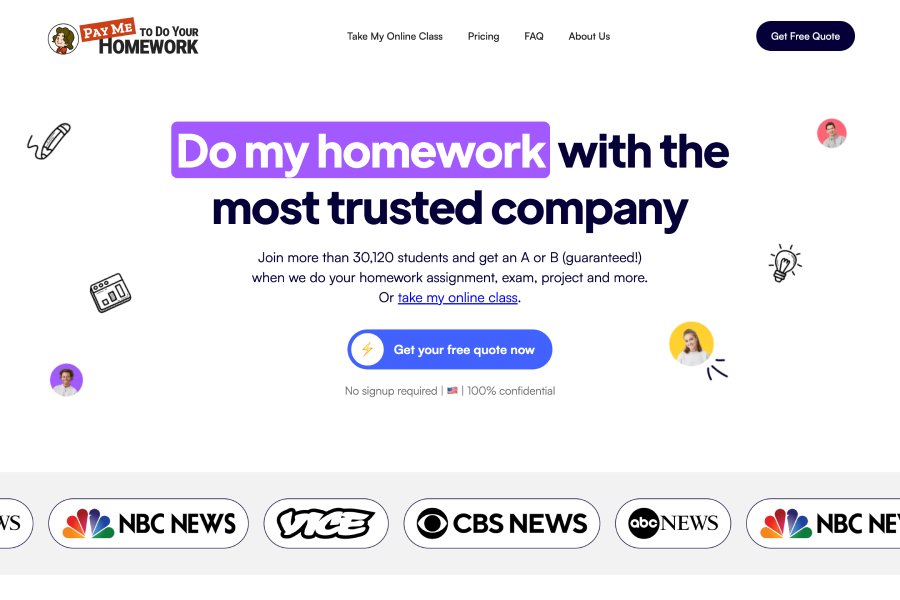 For a new company, PayMeToDoYourHomework.com makes big promises to its customers. While the company didn't make it to the top of our best homework help websites, we have conducted a thorough evaluation of its services. Our review has included the same factors we always use – studying the website content, looking at site-posted testimonials, locating feedback on the web, checking out prices, benefits, and of course, the services that are offered. And, as we always do, we ordered a short research paper, to look at the quality of products that Pay Me to Do Your Homework provides. Our findings were interesting.
Advertised Products and Services
PayMeToDoYourHomework has a huge array of products and services, more than we have seen from a writing service before. Of course, it offers the usual academic writing products for undergraduate, graduate, and professional school students. But, in addition to that, it states it will take all tests/exams that are online; it will take entire courses for students as well, completing all coursework assignments and projects.
Quality of Products/Services
Paymetodoyourhomework.com states that it will guarantee an A or B on any assignment, test, or course they complete for any student, in any subject field, at college, and in post-graduate studies. That's a pretty strong promise. And, if they really can deliver all of that, they must have a huge cadre of researchers and writers, a pretty unusual accomplishment for a service that is so new.
Unfortunately, the Pay Me to Do Your Homework customer reviews we have read do not support this claim. The feedback that was submitted to us was pretty negative. The process was slow, deadlines were not met, and it seemed that the company was having difficulty finding qualified people to complete customer orders.
Other complaints ranged from no way to contact the company other than by sending a message through the online messaging service – no phone number and no live chat. This evidently slows things down a bit.
And customers also complained that they could not get a price quote on the site. they had to submit their name and email address and wait for a quote. This is a problem when the order is urgent.
The company does have a blog, but there are only three articles to date.
The paper we ordered was adequate. It did have a thesis statement, but, in order to get to the 8-page requirement, there was a lot of redundancy and a bit of a lack of coherence and logical flow. We were not impressed, with the money we paid.
Another concern is that there is no BBB membership.
Still, because customers do receive their ordered products, we can say that PayMetoDoYourHomework is not a fraud or scam. But still, the company does not fall into the category of best writing services, which you can find plenty of on our website.
Customer Support/Service
This is a huge issue. There is no way to contact a live person. Thus, a customer cannot talk directly with the individual completing their order, and, if there are issues, especially with urgent needs, the messaging system is not adequate.
Pricing/Discounts
Company prices are on the high side. We paid $29/page for an undergraduate-level research paper. Students should know that they should not look for discounts or coupon codes. We messaged the company to ask about discounts and any possible coupon codes that might be offered. We received a reply three days later saying that discounts were not available.
Additional Benefits
In short, there are none. We were not charged for our title and bibliography pages. We seriously question the guarantee of an A or B. The paper we received was very average.
Final Verdict
As we look at the pros & cons of this company, we have to say that the lack of communication, the complaints of customers, and our own experience are definite cons. Add to that the fact that the company is probably promising more than it can deliver right now, and we have to assign a rating of "poor"
Leave a Comment
Your email address will not be published. Required fields are marked *
Customer reviews
Rating 1.4
based on 5 reviews
I won't order from such a provider.
Unfortunately, it is made and maintained with the same exact care and probably skill as a little girl would have shown. They don't update their blog, they are impossible to get in touch with, and they are expensive. I won't order from such a provider.
They are ridiculously overpriced
I can't understand why would an online business hide their price. I'm not going to do an extra work and give them my contacts only to find out they are ridiculously overpriced. What's more, I can't even see a phone number that I could use to find out whether or not they can help with my problem.
For now, everything looks fine.
They look flattering and I had no problem getting in touch with them. As for the price, it's pretty much average in the market. I appreciate that they give a possibility to pay in installments, so you can refuse getting their service as soon as something goes wrong. I purchased homework help, will see how it goes. For now, everything looks fine.
That's a rip-off!
That's a rip-off! My paper came later than expected and it was actually several pieces that were not related to each other. Felt as if the writer forgot about my assignment and then sent me whatever he found on his computer! I only managed to get a partial refund since they cleaimed the topic was difficult and that there wasn't enough material. Now I have neither paper nor money!
Quality is bad
Beautiful website, friendly supports. Quality is bad. I doubt they have any in-house writer's team, looks like they employ cheap freelancers from far outside the USA. Even an illiterate native would never write like this.
Leave a Review
Your email address will not be published. Required fields are marked *