PrimeWritings.com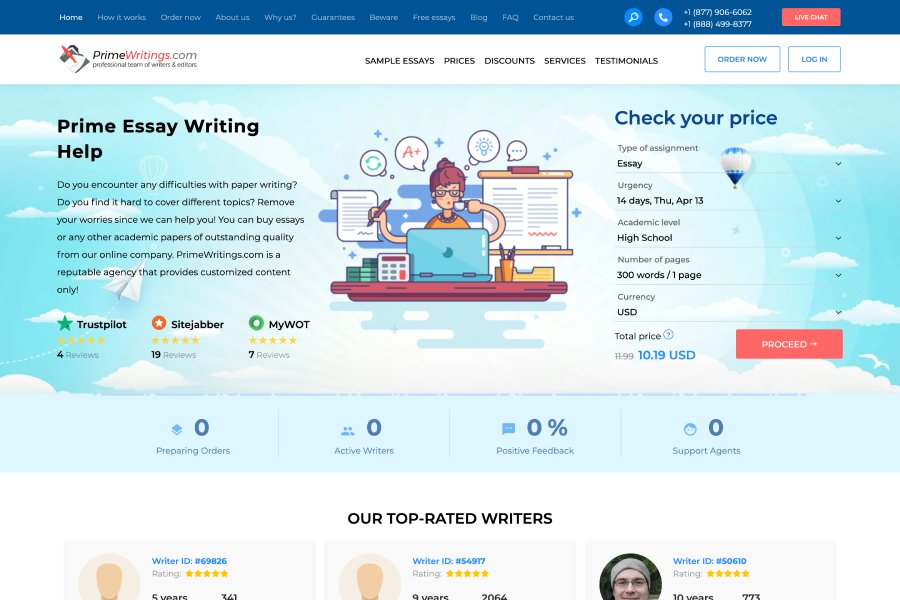 While we cannot find specific copyright information, the PrimeWritings.com site states that it has been in business for over 10 years. We have, however, been able to find customer reviews on the web that go back at least eight years. We have used these, along with a host of other factors, to produce this review. Those factors include what this writing service has to say on its website, the testimonials from its customers, the off-site comments and feedback, the quality of customer support, policies, pricing, benefits, and our own experience as a customer ordering a research paper. From all of this information, we are able to provide the review published here. You should definitely check out our list of the best writing services before you read this review. It should give you a sense of what to expect from a good essay writing service.
Advertised Products and Services
Prime Writings mentions many of its products on several of its pages. To get a full menu of products and services, the visitor will actually have to start the ordering process and study the drop-down menu there. From that menu, we were able to see that the products and services are all academic, along with admissions and personal statement essays, for students from high school through graduate school programs. The essay writing service also offers re-writing, editing, proofreading, and online test-taking. For grad students, it provides research and writing for any section of a thesis or chapter of a dissertation.
Quality of Products and Writers
We use many factors to determine quality.
Content on the website is a bit sparse unless a visitor is willing to access the footer pages at the bottom of the home page. We clicked on several of these, and the writing was not what we would expect from a company that boasts only native English-speaking and degrees from English-speaking universities. These were obviously written by ESL writers, as well as the articles on the company blog.
PrimeWritings' testimonials on the site are all positive, but the offline reviews are not so much. There are complaints about the writing quality, specifically grammar, and vocabulary, and, in several reviews, missed deadlines and difficulty with requested revisions.
The research paper we ordered mirrored the complaints. We have to state that it is hard to believe that an ENL writer was assigned to this order. Incorrect word usage and glaring sentence structures were common throughout the piece. We received our paper one day late.
While we can state that PrimeWritings.com is certainly not a fraud or scam, we are disappointed in the quality.
Customer Support/Service
Prime Writings insists that it is available 24 hours a day. When we called the number, we first got a recording asking us to leave a message. Our call was not returned, but we did reach a live person the second time. Unfortunately, it was difficult to understand the individual, and we kept getting redirected to the order form and told that our writer would help with any further questions we had. We were also told, after a long chat, that a Ph.D. dissertation could be produced in 10 days – this raises a red flag for us. In all, we did not find the customer support department wonderfully supportive.
Pricing/Discounts
PrimeWritings prices run about average. They begin at $12.99/page for high school work with an 11-day deadline and move upward to $44.99/page for Ph.D. level work with a more urgent deadline. Our paper was priced at $151.92 before the discounts that are offered to all new customers. At the current time, for a limited time only, that discount is 10% with a promo code to enter into the order form. Other discounts are offered based upon cumulate pages once a new or returning customer reaches 50+ pages, and they range from 5 – 15%. Coupon codes are provided and given by the customer support department when they are requested.
Additional Benefits
This writing service gives free titles, bibliography, and table of contents pages. It also states that it provides a free plagiarism report; however, in the ordering process, we discovered that there is a fee for that report, along with other pricing for top writers and VIP customer service.
We were able to speak with our writer through a messaging service. While that was somewhat helpful, it became obvious in the written communication that there were language issues.
Final Verdict
We have looked carefully at the pros & cons of this writing service and its offerings. There is no BBB membership and that is unusual for a company in business this long. Perhaps for an ESL student, where professors do not have perfect composition expectations, this could be an appropriate service. Overall, however, our rating is only "Fair."
This service is somewhere in the middle of being very poor or just poor. High prices doesn`t give it benefits as well. You need writing help? They can`t give it to you.
They promise you five free services. In reality you get none of them plus a bad quality paper as a "hey, surprise!". PrimeWritings.com is a total waste of your time and money.
Leave a Comment
Your email address will not be published. Required fields are marked *
Customer reviews
Rating 1
based on 3 reviews
Do not recommend!
Looks like not only their website is from 2006, but their knowledge is also. The paper I ordered was with obsolete information about the events I needed in it to be!!! How?! How was it possible not to use at least google to make sure you`re not making mistakes?! Do not recommend!
awful papers
Actually, I am not really sure how it can be possible to work in writing sphere for 10 years and still deliver awful papers to your customers. 10 years! You can graduate, twice! Attend thousands of writing seminars, gain new skills and so much more. But how can a service just drop down to the edge...? In other words - go by and don`t waste your time.
Strongly recommend ordering on any other resource.
The promise to complete my term paper was completely failed and forgotten by them. The customers support didn`t even try to find a solution to the occurred problem. Of course, why would they do anything at all if they can just ignore you? Strongly recommend ordering on any other resource. Cause I am more than sure that no other resource is capable of failing at so many points!
Leave a Review
Your email address will not be published. Required fields are marked *