RushMyEssay.com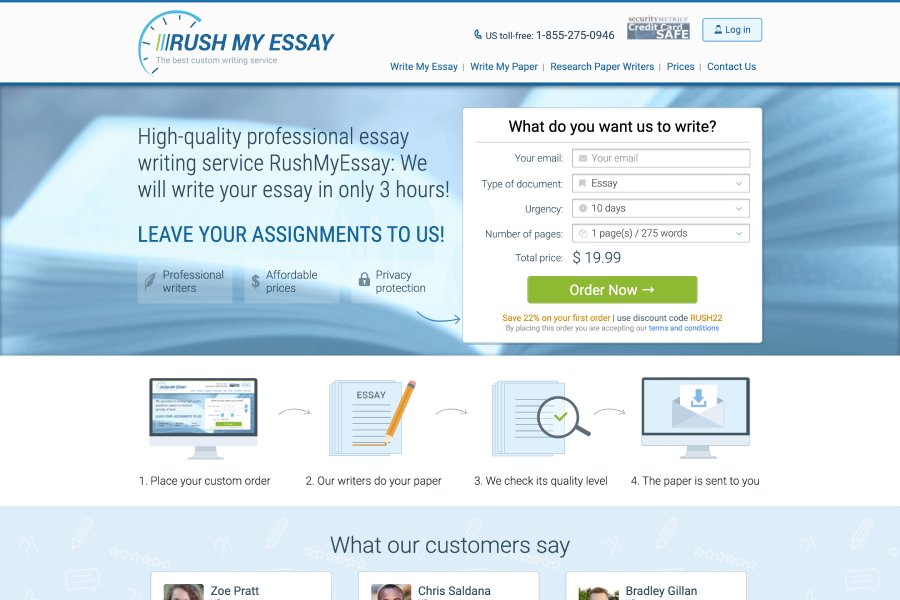 Rush My Essay seems to be one of the oldest writing companies, having been launched in 1997 when the Internet was still relatively new to many people. Nineteen years is a long time for a company in this industry, and it also means that there is a wealth of information to be found all over the web regarding its products and services and customer satisfaction levels. To conduct our RushMyEssay.com review, however, we have used many factors – the same that we use for evaluating any online writing company. These include customer reviews, of course, but also the information that the company provides on its website, samples of writing if available, pricing and discounts, information about the writers, and our judgment of the quality of a research paper we ordered. We also assess the level of customer support from our own experience with this department. Here, then is our summary.
Advertised Products and Services
Rush My Essay began as an academic-only writing service and continues to be just that today, 19 years later. Students at all academic levels may order products and services from the company – essays, papers, case studies, presentations, lab reports, reviews and analyses, projects, research proposals and abstracts, and even dissertations for graduate students.
Other products and services include editing and proofreading, admissions and scholarship essays, math and science assignments and problem-solving projects, and multiple-choice test taking.
Quality of Products/Writers
Here, the RushMyEssay information is mixed.
Because the company claims that it is US-based and uses only Native English-speaking writers, we expected the website content to be well-written, and indeed the landing pages reflect that. Digging deeper, however, we reviewed some of the footer pages that provided more detailed information about the specific products students may order.
In examining the footer pages, we were pretty appalled at the writing quality. Certainly, these were not composed by ENL writers with Mater's or Ph.D. degrees, as the company states it uses. Here is just one example of a statement found in a footer page about research papers
"The fact is when you need to write my thesis services for your degree or thesis for sale online, and which could be different of academic levels like undergraduate, masters or Ph.D., your university or college will be expecting a custom thesis that high-quality research from the latest information and apply it appropriately to what you are doing."
With this concern in mind, we then began to review what customers have said about the quality of products they received.
On-site RushMyEssay testimonials are very positive in all respects
Off-site comments and feedback are not complimentary, and in some instances quite angry. The customer complained primarily about the quality of writing even after they requested and received revisions.
The research paper we ordered was to be at the college level, and it would have met the standard for a high school piece of writing. We asked for professional journal resources only and the resources actually used were books – secondary resources only. We also found numerous instances of incorrect word usage, poor sentence structure and grammar, and, worst, of all, no thesis statement for the paper at all.
Customer Support/Service
Customer support is aggressive until an order is placed. At that point, we have left along. We did call the department a couple of times to ask general questions about the policies and products, but the reps did not appear to be fully knowledgeable about things we already knew from the site content. Most concerning was that we were told a full dissertation could be completed within 14 days.
We could not find a Rush My Essay BBB membership, and there were no registered complaints with that organization.
Pricing/Discounts
Their prices are in the high average range. Perhaps this is why they provide 22% discounts to first-time customers with a coupon code to be entered in a field on the order form. There are also permanent discounts, from 5 – 15% based upon the number of pages ordered. We found no mention of special promo codes that might be provided during the year, as many other services offer.
The odd thing about pricing is that there is no difference between a basic high school essay and a doctoral dissertation. There are only two variables – the deadline urgency, and the choice of writer/service level – standard, premium, and platinum.
Additional Benefits
The company provides the standard free pages and free revisions. We have to chuckle a bit with the listing of "free email delivery" as a $10 value as if email ever cost anything.
Final Verdict
As we review the pros & cons, we do have concerns. While the company is certainly not a fraud or scam, the quality of the product is just not there. We are therefore assigning a rating of only "Fair." Consult the list of best essay writing services we have gathered for you.
Unbelievable! I placed my order with a deadline of 3 days and today is the 5th day!!! They still haven`t sent me my order nor replied why they haven`t! Awful service!
The essay from Rush My Essay had plagiarism in it! The professor told me to write another one. So I have no money and no paper. And also got a bad reputation because of this company!
Leave a Comment
Your email address will not be published. Required fields are marked *
Customer reviews
Rating 1.8
based on 9 reviews
Expensive! Unprofessional!
Time frames were kept without any hint of postponing. Expensive! Unprofessional! Without plagiarism reports and without quality assurance reports. Should I continue the list of "positive" sides of Rush my Essay? You`d better do not use this service, of course, if you are not willing to be used and left without a completed high quality order.
Worthless company
Positive: Discount Negative: All the other things. Worthless company with worthless writings. If you want to obtain low score this one is for you to work.
Low quality and scam
That was such a waste of my abilities to wait for eternity. As it turned out I waited for basically nothing. So sad there are places like this that do not represent anything but the low quality and scam.
Very bad
Support from their support department. Weak writing without any reports to confirm the quality or originality of the work they`ve done. I don`t know who would want to cooperate with them again when they aren`t able to do anything normally.
Leave a Review
Your email address will not be published. Required fields are marked *