SpeedyPaper.com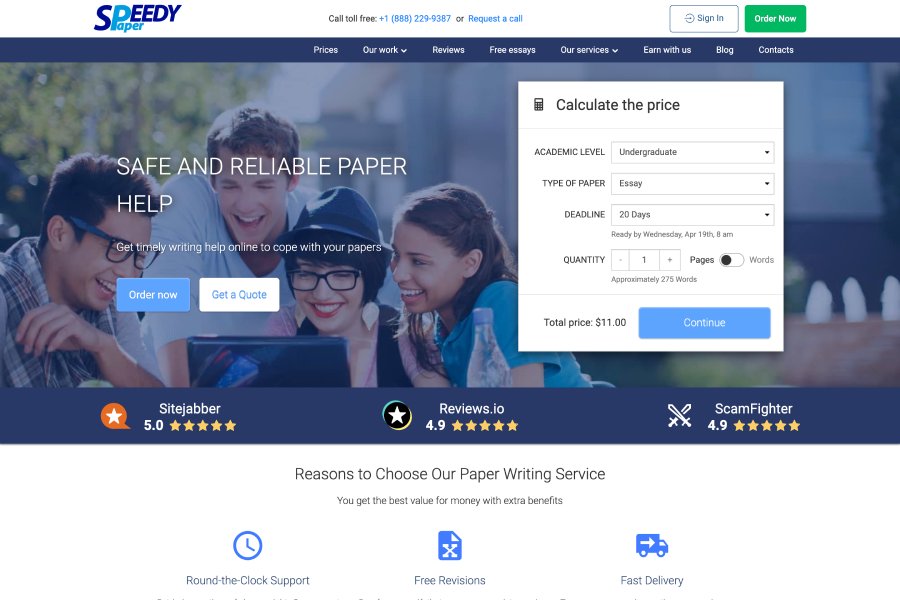 Speedypaper.com appears to be a relative newcomer to the academic writing service industry. But, in its short time in business, there are already requests for us to complete a review of the company. We are not exactly sure of how long Speedy Paper has been in business, but we have found feedback and comments going back at least a year.
To prepare this review, we have looked at all of the factors that we use in our evaluation of all writing services – content that we find on the website, testimonials that are posted on that site, samples of writing products, customer comment/feedback that are submitted to us or that we have found on the web, prices, discounts, additional benefits and perks, and any other unique features. This, then, is our summary.
Advertised Products and Services
Speedy Paper focuses only on academic products and services. Students from high school through graduate programs can order up anything from a basic 5-paragraph essay of any type to research papers on any topic to critiques, literary analyses, case studies, lab reports, and presentations, all the way through graduate-level theses and dissertations.
Another category of services includes editing and proofreading. Still, a third category includes problem-solving, STEM assignments
and other homework help.
There is a complete listing of the types of products and services once a customer lands on the order form..
Quality of Products/Writers
To provide a rating on quality, we have to look at several elements. Here is our assessment of what we found related to Speedy Paper.
There is no information available on the writers that the company uses other than to say they are "proficient" and "qualified." Their degree levels and whether they are native English-speaking professionals from English-speaking universities are not addressed at all.
Customer testimonials on the website are all very complimentary, as expected.
Customer comments and feedback on paper writing service review websites and social media are quite mixed. The biggest complaints relate to the quality of writing, with a number of customers stating that they did not believe ENL writers were being used to produce their pieces.
Beyond this, our larger concern cropped up when we reviewed the samples that are posted on the site. A Ph.D. thesis in the area of business, for example, was 5 pages in length, with 4 resources – all of the resources were books and thus secondary sources.
This piece would be appropriate for a high school assignment, and certainly Speedy Paper should know the basic requirements of a Ph.D. thesis.
Another sample, a high school essay on the omnivore, attempted to discuss the poor eating habits and factory production of the food we eat. In addition to vocabulary that was far too sophisticated for a high school essay, the piece was riddled with incorrect word usage.
Here is a sentence directly taken from a sample admissions letter to Oxford University. "the doctoral program will also make me stand a better chance to seek employment in big companies where I will be able to show what needs to be done in the context of current technology system." This essay would have been thrown out by any admissions committee.
While the samples displayed poor structure and writing, we can nevertheless state that SpeedyPaper.com is not a fraud or scam. Customers do get the orders they place and pay for, and in this case, it can be considered certainly reliable.
We could find no Speedy Paper BBB membership either, even though the company states it is America-based.
Customer Support/Service
The company states that it is available 24/7 via chat, email, phone, and Skype. We did contact Speedypaper.com by telephone and email. Here is what we did find:
We called the company on several occasions, at different times of day and night. Each time we were greeted with music, which lasted for about 2 minutes. We then got a message that stated, "The wireless customer you are calling is not available. Please try your call again later."
In order to live chat, the customer must submit his/her name, email address, and phone number and wait for someone to get back to them. We do not consider this to be live chat in real-time.
We did attempt one email and received no response.
There is no physical address provided for SpeedyPaper.com.
Pricing/Discounts
Speedy Paper prices are in the low average range. They begin with $11 per page for an undergraduate essay with a 20-day deadline and increase up to $52/page for a one-page essay at the Ph.D. level with a 6-hour deadline. This falls within the low average range for the industry.
There are no discounts offered on the website. However, there is a live chat prompt for customers to access a discount by providing an email address. When we contacted customer service about discounts, we were told that customers could request them, although they could not state how much of a discount a customer might receive. There is a field on the order form for a promo code for a discount, so we assume that a customer would get such a code from the customer support department.
Payment methods are standard for most writing services – major credit cards, PayPal, etc. Students can certainly feel safe providing their financial information because the company uses a third-party, secure payment processor.
Additional Benefits
There are some free benefits available to customers – revisions, bibliography, an outline, a title page, and formatting. There are also fee-based additions, such as a plagiarism report for $10 and a "VIP" service for an additional cost.
Final Verdict
Speedypaper.com is a legal service that can be trusted to take orders and fulfill them. The issue at hand for students, as it always is, is the quality of what they receive when they use a writing service. Based on some issues with quality, we are providing an overall rating of 3, on a 5-point scale.
Can I say something good about this service? Sadly, but no. Being quite good at writing myself I easily understand and point out awful mistakes made in my paper by the writer from this service. Doesn`t worth your attention
The writer failed to meet the deadline and I had a very urgent order. It's unacceptable, because I couldn't hand in the essay on time thanks to this service. I'm very angry!
Leave a Comment
Your email address will not be published. Required fields are marked *
Customer reviews
Rating 1.7
based on 12 reviews
Leave a Review
Your email address will not be published. Required fields are marked *