ThesisGeek.com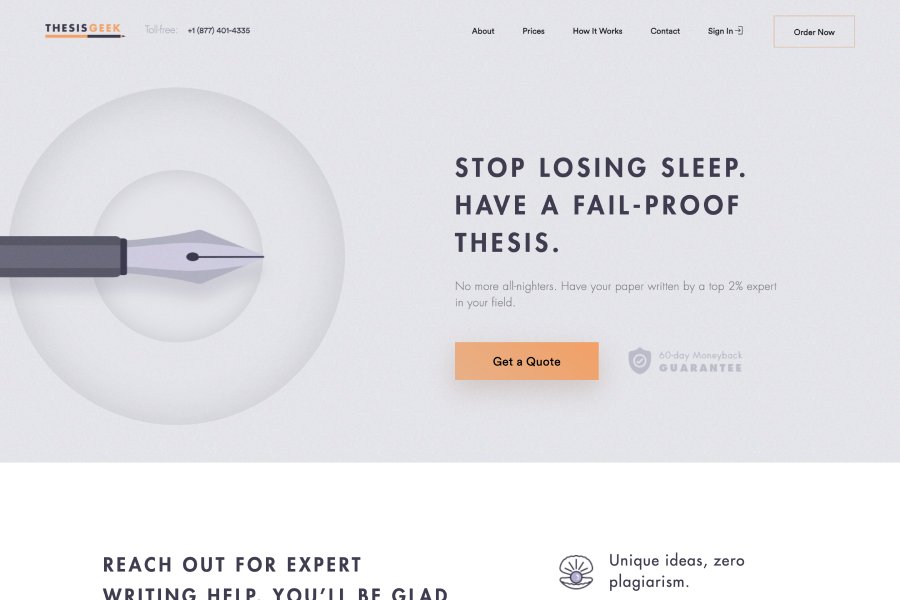 ThesisGeek.com has been providing online writing services but is not the best dissertation writing service out there. We are not certain where the corporate headquarters are located and were unable to get that information from the customer support department. To produce this summary review of Thesis Geek, we have included the same factors that we do for all of our reviews. We read through the entire site; we look at the on-site testimonials. We contact customer support and ask a lot of questions, we search out and read customer reviews on social media and other review sites, and we place an order for ourselves. Here is what we have found.
Advertised Products and Services
ThesisGeek serves only graduate students who must produce their capstone projects – theses and dissertations. It promises only U.S. and UK Ph.D. writers and editors. Students can order any section or chapter or all of either of these products. In addition, the company offers editing services for students who complete their own works and need a "second pair of eyes" to clean up grammar and composition.
Quality of Products/Writers
Here is where the issues begin with this company. There are several, as follows:
The content on the site itself includes some of the poorest grammar and composition we have encountered. Here are a couple of examples:
"Every writing business instinctually believes students around the globe already have something needing to get completed; make their guesses less obtrusive by simply hiring within our model of academic dignity." (What does this even mean?)
"We have always been adamant about protection your reputation online when shopping with us."
There are two samples – the first 10 pages of a dissertation and a capstone project. Through an ERIC search, we were able to locate one of these works, and it was actually submitted by a student before ThesisGeek.com even opened for business.
We ordered the introductory section of a thesis – that part of the project which is supposed to introduce the research question/hypothesis and provide a brief introduction to the research that was conducted to answer the question. What we received was far less than scholarly and might have been acceptable for an introduction to a high school research paper. Still, we did receive the piece on time.
Customer Support/Service
We contacted the company once via live chat and once by telephone. Specifically, we asked about dissertation research and writing. It appeared that the reps we talked to did not even understand that if a research design and original research were to be conducted, the student-client would have to do that in their own locale and send the data to the writer for the results in the chapter to be written. The writer cannot just make up data from original research. And yet, Thesis Geek insists that it can produce a dissertation in 3 days.
We will not say that ThesisGeek is a fraud or scam. We ordered a thesis section on a specific topic and got that section delivered as promised. Our concern is the lack of quality.
Pricing/Discounts
Thesis Geek prices are low for the type of products they offer. Thesis writing is $22.99/page with a 15+ day deadline. A dissertation with a 3-day deadline is priced at $25.18. Editing services begin at $17.24/page. New customer discounts with any kind of promo code will not be found. Nor are there any loyalty coupon codes for returning customers. This stands to reason since thesis and dissertation customers are usually one-time clients.
Additional Benefits
There are no additional benefits. We do not know if the company charges for the title, table of contents, and bibliography pages. We did ask customer support, but they said to check with our writer.
There are also no policies published on the site, and there is no BBB membership.
Final Verdict
In looking at the pros & cons, we find very little to praise about this company. Writers are probably ESL; there are no policies; customer service reps are not knowledgeable, and some of the promises are very hard to swallow. The results of our review have resulted in a rating of "Fair to Poor." We do not recommend that grad students use this company for such critical projects.
I was like "$17 per page? Are you kidding?" But okay, quality should be well-paid. Waaaait, but where have you noticed a single hint of quality in the paper completed by this resource? Fraud!
Their writer didnt contact me about editing!!! I received "wet" paper without bibliography and summary! To my surprise none of the complains were accepted and I was basically told to be thankful for receiving paper at all. Awful place!
Leave a Comment
Your email address will not be published. Required fields are marked *
Customer reviews
Rating 1
based on 3 reviews
I cannot recommend ThesisGeek
Not taking into account their name as a Geek - they are not. My task for them was to complete and edit my dissertation work in two weeks. They failed to proceed it. My paper was delivered to me in 15 days since the day of the order. I didnt get any moneyback or at least "sorry". Due to that I cannot recommend ThesisGeek to people around.
Stay away from this resource.
Seriously, I have been wondering how come a service like this can exist at all?! What I mean is that it`s impossible to work with writers who do not understand how your order should look like and what are the necessary elements to include. I can`t say that they hire geeks because that`s simply not true. Stay away from this resource.
Extra awful
What is the point of adding letters to the toll free? When you`re in an urgent need of a paper and want to phone them in, you need to google the old keyboard to figure out the real numbers in their phone number. One more thing is the weak papers that they do for their customers. I don`t decline that maybe that was me who got lucky by receiving an extra awful one, but who knows how much attention they pay to the quality of the services.
Leave a Review
Your email address will not be published. Required fields are marked *