Tutoreye.com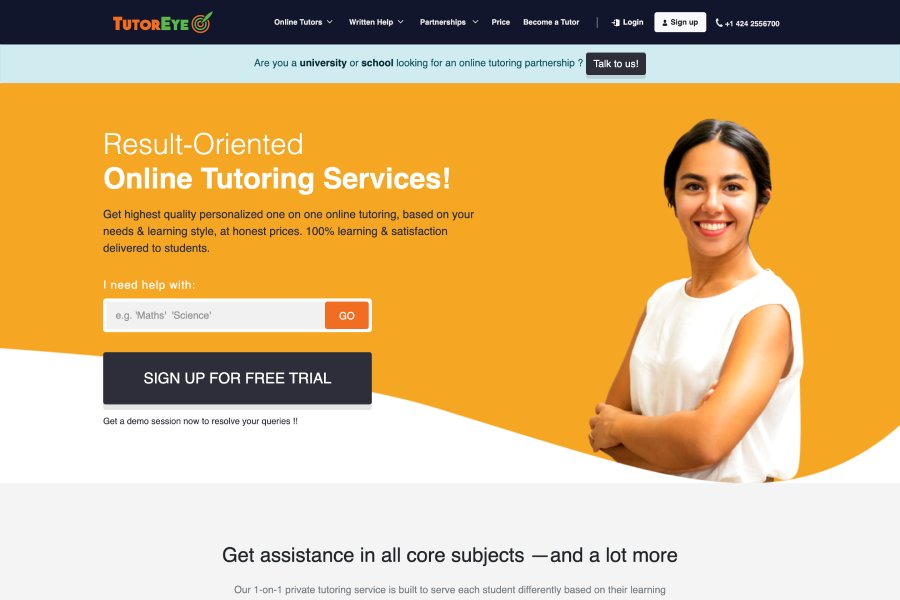 Online tutoring services have sprouted up like weeds in the digital landscape. And students are making use of them just as much as they are using homework help websites. Although our focus has been on the review of writing services, we have received many requests for reviews of some of these tutoring services too. So, in keeping with our commitment to provide as much information to students as possible, we have moved into this newer area. This review of Tutoreye.com has resulted from a number of factors:
A careful study of the Tutor Eye website and all of its content and information
Tutoreye testimonials that the company has published
Customer reviews that we have found on the web and that have been submitted to us
Prices, along with any discounts the agency offers
A review of the quality of tutors
This is our summary of all that we found out.
Advertised Products and Services
Tutoreye.com is an online tutoring service. It provides tutoring and homework help to students from elementary school through university graduate programs. Students register with the site, explain the tutoring or homework help they need, and then are presented with tutors who can provide that help. The students (or parents) are then responsible for choosing the tutor they think will be best.
Quality of Products/Tutors
As we reviewed the Tutor Eye website, we looked at the content on all pages. Some of these pages give clear, well-written information; others – not so much. It seems that some ESL writers may be involved.
We also reviewed the testimonials and other customer reviews. This was a mixed bag. Some students thought their tutors did a good job; others did not. Quality seems to depend on the tutor a customer chooses.
As to the tutor profiles, there is not a lot of information to go on. The customer gets a list of possible tutors to choose from, but many of them are not degreed in the academic area of need.
We ordered help with an English essay assignment, and our list included tutors in several other academic areas, including math and science. Just for the heck of it, we selected a math person, and the results were as expected – not great.
The other concern we had was that we had to provide an email address and receive a confirmation to finalize our registration. This was okay, but then we were inundated with emails until we finally marked the site as spam.
Customer Support/Service
This company acts more like a matching service than an agency with a fully staffed customer support department. To contact Tutoreye.com customer support, there is a phone number, but it only provides a message to leave a name and number for a response. We did this several times and got one response three days after the call. Any student in need of emergency homework help would be out of luck. The only other way to make contact is to leave a message on the site and wait for a response.
Some customers have complained that their tutors are also slow to respond, and they stay on live chat for quite some time. Because they are paying for time used, this jacks up the cost.
Pricing/Discounts
Tutoreye prices come in packages. Customers can choose to pay as time is used at $15 for 30 minutes. Other packages offer several options, but all of these have a one-time registration fee before any tutoring actually begins.
Prices seem to be set in stone, as we could find no coupon codes for discounts or even a promo code for a first-time customer.
Additional Benefits
In short, there are no additional benefits. The agency promotes a Student Ambassador program, in which students market the company, and we assume they may get some amount of free tutoring for doing so – the details are totally unclear.
We could not find a tutor Eye BBB membership, although we can probably say that the company is not a fraud or scam.
Final Verdict
We try to state the pros & cons of each service we evaluate. We are not finding a lot of positive things to say here. The company needs to be more responsive to customers, and offered tutors should have degrees in their tutoring subjects. It seems like tutors can just sign up to work in any subject, regardless of their academic backgrounds. This causes some concern for us.
Overall, we have given a TutorEye.com rating of "Fair."
Leave a Comment
Your email address will not be published. Required fields are marked *
Customer reviews
Rating 0
based on 0 reviews
Leave a Review
Your email address will not be published. Required fields are marked *