UnemployedProfessors.com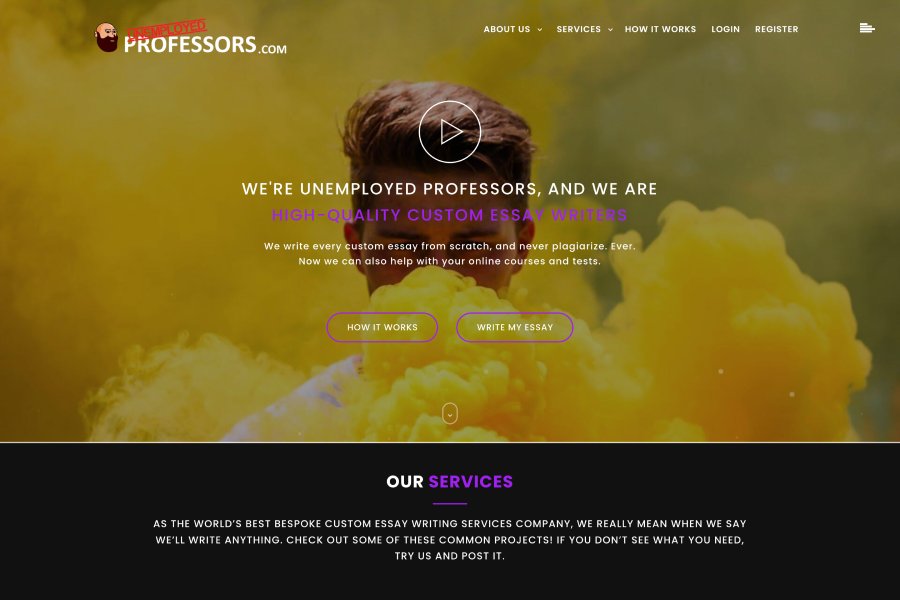 The following paragraphs contain our review of UnemployedProfessors.com. In addition to placing an order and exploring the company website, we also took the time to read other customer reviews. To ensure that we don't recommend a scam website, we also researched this writing service on the BBB website.
Advertised Products And Services
This is an academic writing service. The products offered fall within that category. They include essays, research papers, term papers, book reports, homework assignments, scholarship essays, and other similar products. The primary service offered is content writing.
Quality of Products/Writers
We asked for a simple English essay comparing and contrasting any two related subjects. The length was four pages long, and we did not require any particular sources to be used. The citation format was APA. On a positive note, the unemployedprofessors writer did provide our essay within the deadline.
Unfortunately, there isn't much more positive to say about the paper we received. There were several spelling and grammar mistakes. Further, the writer did not follow the rules of the citation format. They simply wrote an essay. We were frustrated at the lack of quality. Given our experience up until receiving the paper, we honestly had high hopes.
Customer Support/Service
Customer support at Unemployed Professors is virtually nonexistent. We contacted customer support to tell them that we were not satisfied with our paper, and our experience with our writer. Instead of helping us to obtain a revision or providing other assistance, they informed us that we were responsible for vetting out the writer we selected. This was in direct contradiction to their claims to hire writers they have verified to be academically talented professors.
Pricing/Discounts
UnemployedProfessors does not post their prices online. This is because they use a system where writers place bids on the orders that students submit. In our case, we asked for a very basic essay, essentially one that a freshman would be asked to write. The bids we received were between 20 and 40 dollars per page. These prices are exceptionally high. In addition to this, there are no discounts available. Obviously, it is difficult to offer promo codes or coupon codes without a fixed pricing system.
We aren't opposed to paying a premium for quality work on advanced-level assignments. However, there is no need to charge these kinds of prices for subpar work on very basic assignments.
Additional Benefits
We did not find many benefits directly related to the products and services that UnemployedProfessors.com has to offer. Instead, the additional benefits are in the extras. The blog posts and the web content is all very well done, well produced, and really entertaining. Unfortunately, beyond explaining why students benefit from writing services, there isn't much value added. There's definitely some entertainment value thought.
Final Verdict
While we definitely found some good points about UnemployedProfessors we are unable to recommend them at this time. We took the time to weigh the pros & cons. While there are some positive testimonials, they still failed to deliver where it counts. Ultimately we give them the rating that we do because when it comes to writing quality, they simply did not meet our expectations. When this happens, we cannot give our endorsement. Unemployed Professors are not a fraud or a scam. They simply focus too much on bells and whistles such as entertainment value and not enough on writing and quality control.
Leave a Comment
Your email address will not be published. Required fields are marked *
Customer reviews
Rating 1.2
based on 6 reviews
I wouldn`t recommend this service to anyone.
I am completely dissatisfied with the work they`ve done for me. It`s not academic at all. Maybe, it will do for high school but my college professor won`t even evaluate it because of bad English and grammar mistakes. I wouldn`t recommend this service to anyone.
Leave a Review
Your email address will not be published. Required fields are marked *