VarsityTutors.com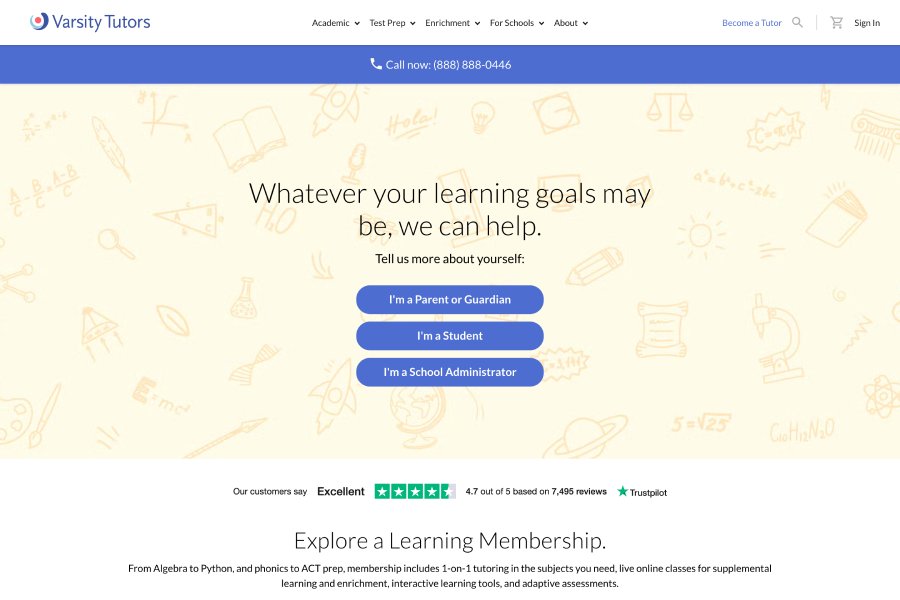 Students sometimes struggle with certain subjects. And they (or their parents) may look for local or online tutoring help. Tutoring has become a "big business" today, and there are just a huge number of homework help websites out there, all competing for customers. Some are great, some are average, and some are horrible. With that in mind, we have decided to extend our reviews to tutoring services so that students can have a good idea of the quality of these agencies.
Varsitytutors.com is the subject of this review. As we do when we review writing services, we have looked at many factors in our assessment of this tutoring service – the information we have found on the company website, including posted testimonials; Varsity Tutors customer reviews we have found out on the web, the types of tutoring and homework help offered, the quality of tutors, prices, and discounts, customer service, and any benefits that come with using this service.
Here is what we found.
Advertised Products and Services
Varsitytutors has been around since 2007. It was originally a U.S.-based tutoring service that offered in-home or "meet-up" tutoring services to students from elementary school to college. It had offices in all major U.S. cities (it still does today). Over time, it developed a website and now offers online tutoring and homework help to students from anywhere.
In terms of services offered, the Varsitytutors.com website is relatively clear. Students and get in-home tutoring; they can arrange to meet tutors in neutral locations (libraries, cafes, etc.), or they can get tutoring online, even using Skype or other video conferencing venues.
Students can request longer-term tutoring if they are struggling in specific subjects or help with specific coursework assignments on a short-term basis.
The other feature of the service includes test prep, primarily for high school students facing SAT and ACT testing.
To set up tutoring or "instant help," students can call a toll-free number. If they live in one of the cities in which Varsity Tutors has a local office, they can call that number too.
The process for getting a tutor is pretty straightforward. Once a request is made for tutoring or short-term homework help, the company assigns a tutor. The tutor contacts the customer, and the services begin. the customer and tutor work directly with each other without much company involvement other than requests for feedback. All payments are made to VarsityTutors. The company takes its cuts and then pays the tutor. Billing occurs up front and as hours of service occur after that.
Quality of Products/Services/Tutors
We have to rely on what customers say about their experiences with Varsitytutors.com, but we also ordered short-term and one-time help with a short research paper assignment. Here is want we found:
Feedback and comments were mixed. While some customers were very happy with the services they received, others were not as pleased. As with most tutoring services, customer satisfaction is always related to the tutors that have been assigned by the company.
We ordered help with a research paper assignment, and our experience was pretty average. The tutor was willing to evaluate the resources we used and even suggest some additional ones, but even when we made some glaring errors in our writing, many were not picked up and corrected. Overall, we were a bit disappointed.
What we can say is this: If we were to list pros & cons of Varsity Tutors, we would say that the company is making efforts to provide good tutoring services, and it does ask for feedback. We are just not certain that it really acts on that feedback. At any rate, the company does have a BBB membership and is certainly not a fraud or scam.
Customer Support/Service
Customers can contact the company by phone or email. We did this before we ordered our help. The agent we talked with was friendly and quoted prices to us before we placed an order. This was helpful.
Our communication with the writer was primarily through chat. We submitted our writing and then waited for a critique. Sometimes, this took a while. If we were in an emergency situation, this might not have been ideal. We wonder if the online tutors may have too much on their plates at one time.
Pricing/Discounts
Varsitytutors.com prices are obviously variable and seem to differ according to the part of the country in which a customer lives, especially for in-home or meet-up services. This is not surprising since general tutoring rates do vary by cost of living across the country.
There are no coupon codes for discounts for returning customers or any type of promo code for new customers. The prices are what they are, and that is it.
Additional Benefits
There really are no additional benefits to using Varsity Tutors. What you see is what you get, and that's it.
Final Verdict
While Varsity Tutors is an older and more established tutoring service, it is like any other tutoring service. Quality totally depends on the tutor and the relationship between the assigned tutor and the customer. Overall, we are assigning a Varsity Tutors rating of "Fair."
Leave a Comment
Your email address will not be published. Required fields are marked *
Customer reviews
Rating 0
based on 0 reviews
Leave a Review
Your email address will not be published. Required fields are marked *