Educibly.com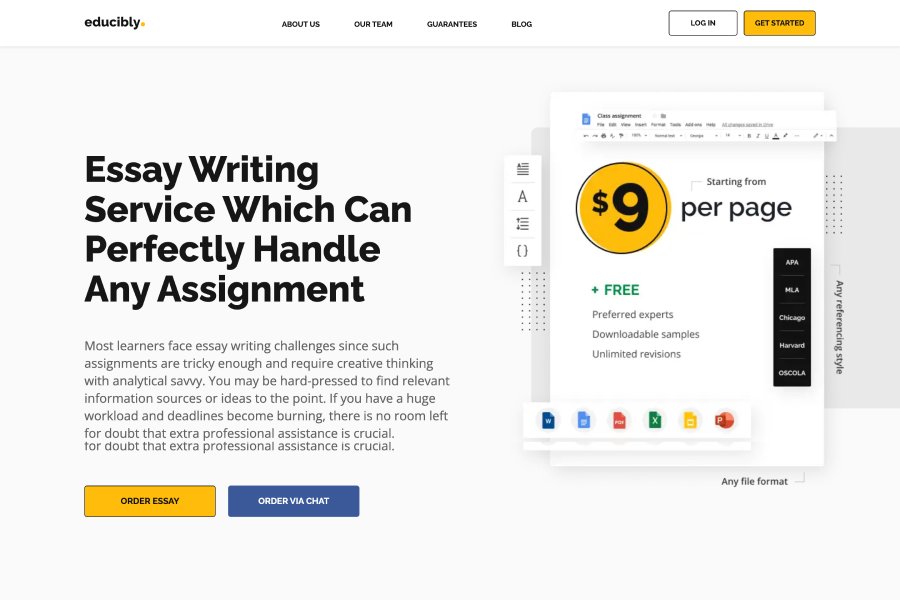 The following is our review of Educibly.com. In order to provide a thorough write-up, we compared with the best essay writing service reviews, placed an order for a paper, interacted with customer service staff, and researched this writing service online. Our research also includes a check with the BBB for unresolved customer complaints. The following is a summary of our experience.
Advertised Products And Services
According to their website, they offer writing, editing, and formatting services. The products seem to be mainly academic writing-related. These include essays, term papers, research papers, critiques, thesis and dissertation, and other similar products. We did see that resume writing is also offered. We did not notice business or copywriting services. We ordered a college-level essay on the topic of the main characters in Othello.
Quality of Products/Writers
While our writer was cordial and communicative, they were clearly not qualified to write academic papers, even at a low college level. Our essay was full of spelling and grammatical errors. Frequent inappropriate and off-base use of words was our indication that the writer was not a native English speaker. There was also a clear lack of subject matter knowledge. This was something that was mentioned in several customer reviews.
Customer Support/Service
We were not impressed with Educibly support or service in any way. They were unable to answer basic questions about their own policy. In many cases, they were abrupt and rude. We were not able to get any help with the problems we found with our essay. We requested a refund or help with revising mistakes.
Pricing/Discounts
We paid just under sixteen dollars per page for an essay with a two-week deadline. This is a fairly average price. Unfortunately, due to the low quality, these prices are hardly a bargain. We spent a bit of time looking for discounts. There do not appear to be any coupon codes, nor did we find a promo code on any special offer websites.
We do have an additional word of warning. When you place your order through this website, several additional products and services are preselected for you. This means that if you do not wish to pay for these, you have to manually uncheck each box. Otherwise,  you could end up spending significantly more than you intend.
Additional Benefits
Other than some poorly written writing samples, there are really no compelling features or benefits here. We did not see any blog posts articles or other interesting content. Many other writing services offer these so that interested customers will visit their site frequently, and add value to the overall user experience. Educibly has obviously chosen not to do this.
Final Verdict
The ultimate question is whether or not Educibly is a fraud or scam. While we do not believe there is an intention to deceive, there are exceptional quality issues. In addition to poor writing quality, we encountered poor customer service. Taking this into consideration, mulling over the few positive testimonials, and weighing the pros & cons, our final rating of educibly.com is poor.
Customers should take care to avoid this writing service. Instead, we ask you to consider the other reviews we have published. Many are quite positive, and highlight writing services that truly offer both quality and customer service.
Leave a Comment
Your email address will not be published. Required fields are marked *
Customer reviews
Rating 1.1
based on 12 reviews
bad writing
I'm a positive person and honestly tried to find something positive about my experience with this company. But I haven't managed to. They are not professional at all, don't know the basic rules of academic writing and can't do any adequate research. What's more, they are pushy and talk too much so you can't even say a word for yourself.
I payed way too much
In fact, they offer so much that it's actually hard to believe they do at least half of it. Unfortunately, I wasn't too smart and did yield to their promises by having placed an order for a 3 hour essay. Of course, I payed way too much and of course I didn't get it on time.
Leave a Review
Your email address will not be published. Required fields are marked *