SmartWritingService.com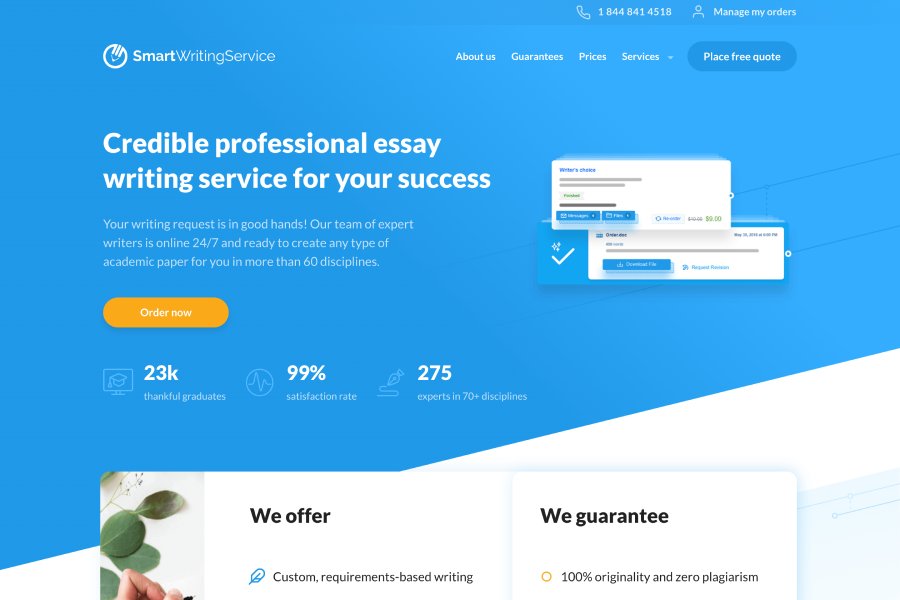 SmartWritingService.com is definitely in the business of providing custom writing products, but we are confused as to how long this company has been in business. The published copyright date is 2013-2016; however, at one point the site states that the company was registered as a business in Hong Kong in 2015; yet another statement indicates that the company has been in business since 2005. We were able to find online evidence of its existence going back to 2013.
This Smart Writing Service review has been compiled after an investigation of several factors – the information which the company provides on its website, the site-published testimonials of satisfied customers, essay writing service reviews, a look at writing samples on the site, and the quality of a research paper which we ourselves ordered. We also compare pricing, discounts, and other benefits.
Advertised Products and Services
SmartWritingService has all of its offered products nicely listed in a column on the right side of its landing page. It is obvious at first glance that the company focuses solely on academic writing products, and the quote form indicates that it serves students in high school, college, and graduate programs. The listing is comprehensive and covers virtually any assignment a student might expect to face at any of these academic levels.
Quality of Products/Writers
SmartWritingService.com does not publish samples of its writers' work on its site, so we relied on other factors to determine quality.
There is a very large listing of specific products in the footer section of the site, and we accessed a few of them to read about the products. The writing quality was absolutely terrible. It was obvious that these pages had been written by foreigners whose command of the English language was basic, at best. Here is a quote from a footer page titled, Write My Research Paper: "A research paper is generally big in volume assignment, but they're more often its length depends on the type of the topic."  Obviously, this is unacceptable English composition.
There are also unfavorable comments and feedback elsewhere on the web. Customers have complained about the quality of writing, poor resources, and failure to abide by specific instructions.
The paper we received from Smart Writing Service reinforced the complaints that we found. Despite the company's claim that all of its writers are ENL professionals, this cannot be the case. Clearly, a foreigner wrote our paper. As well, the resources used were books that would be appropriate for high school, not the college level, which we requested.
To provide a summation of quality, we find it very suspicious when the company claims to have only Master's and Ph.D. writers from English-speaking universities; as well we could find no SmartWritingService BBB membership.
While we can state that this company is not a fraud or scam, we cannot recommend it as a professional service.
Customer Support/Service
We contacted the company on three occasions to ask about products and services. The individuals who answered the phone calls were sorely lacking in knowledge about policies and products. We were referred to the FAQ section of the website. during a live hat, one rep told us that a full dissertation could be completed within 14 days – ludicrous.
Pricing/Discounts
Smart Writing Service prices are about average for the industry. Our research paper of 8 pages with a 7-day deadline was $136.00. There are no first-time customer discounts offered, nor is there a place to enter any type of promo code for a discount on the order form. The Terms and Conditions policy speaks to discounts and directs the reader to the FAQ section for more information. We accessed the FAQ section, and there was no information regarding discounts or any type of coupon codes for such discounts.
We can only conclude that no discounts or special pricing are offered by this company.
Additional Benefits
The company does state that it provides free title and bibliography pages, as well as revisions and formatting. This is standard for the industry.
Final Verdict
In looking at the pros & cons of Smart Writing Service, there is little, if anything, to brag about. We suspect that the claim to have only ENL writers with Master's and Ph.D's is false. Quality is poor, and customer reps have little to no information about the products and services. Overall our rating of this company is "Poor," and we do not recommend its use.
Hahaha – was my reaction when the essay I ordered was 13% unique. Okay, what should I say to my teacher? Sorry, the writer I paid wasn't well-qualified not to ctrl+c and ctrl+v the work?
I got "C" for the essay written by their writers. Not what I expected from experts.
Leave a Comment
Your email address will not be published. Required fields are marked *
Customer reviews
Rating 2
based on 9 reviews
It's a waste of money.
I wish I didn't order from them in the first place. It's a waste of money. The essay that I bought from Smart Writing Service was full of mistakes and needed a revision. But speaking about the paper itself, it was of a very low quality. As if it was written for high school and not the 3rd year of college. I'm really disappointed and I don't wanna work with them again in the future.
Plagiarized!
Do not ever use Smart Writing Service!!!! My paper was 57% plagiarized!
I was not able to find any positive aspects of their services.
First, there was a money sum that exited the amount I was willing to pay for a term paper completion. Second, it was totally impossible to get any comments on delay with the delivery. I couldn`t point a single reason that might push me to use their 'help' again.
Bad service
People who work here still have to learn to be friendly.
Typos in every word
My thesis contained typos in every word, literally! I don't even want to ask for revision since it's hilarious. They obviously don't go anywhere close to proofreading their work prior to sending.
Leave a Review
Your email address will not be published. Required fields are marked *